Wales' first pop-up menopause cafe for women to share stories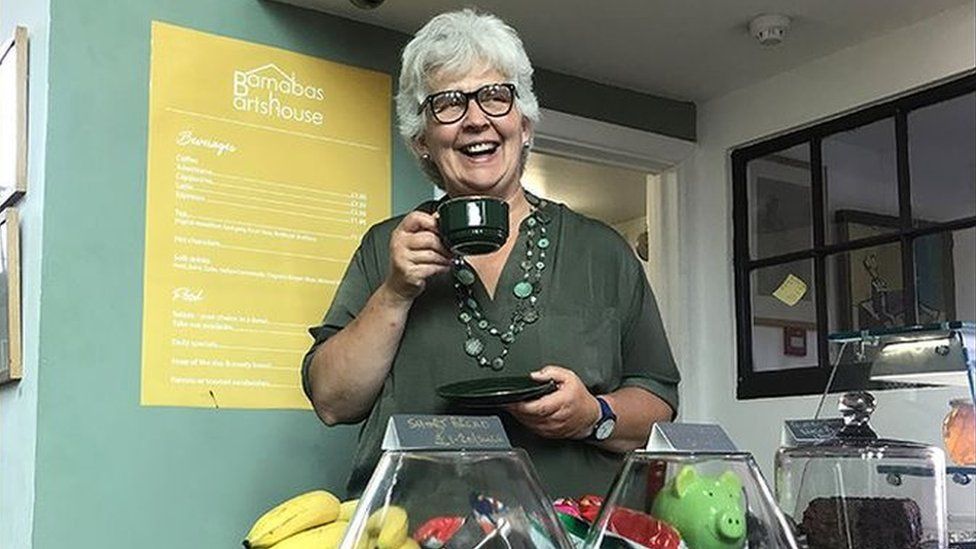 In an old converted church, tucked away among the terrace streets of Newport, something unusual is happening.
Women, plus their partners and families, are heading to a pop-up cafe, set-up to help provide support for those going through the menopause.
It's Wales' first menopause cafe - the idea taken from the 'death cafes' which have sprung up across Europe and America, designed to help people cope with grief and the loss of loved ones.
Mindfulness practitioner and life coach Philomena Jordan-Patrikios is running the event.
"I wanted to do this because I frequently work with women experiencing the menopause," she said.
"For some, the menopause can bring hot flushes and night sweats, but it can also lead to feeling isolated and stressed.
"If this happens over an extended period of time, it can trip the body into a flight or fight response, which might impact on the area of the brain which is known for decision making and cognitive ability."
The idea of the cafe, she says, is not just for women to bond and share stories over tea and cake, but to also get support.
She said: "Women who are suffering during the menopause might benefit from finding ways to calm their body and mind.
"Often, if we are having a tough time, we can reach for things like coffee and sugar as a relief, not knowing that they add to body imbalance.
"I want to help women learn about the mind-body connection and how to help bring balance back into their life.
"But there is no specific agenda at the cafe; there will be a natural sharing and discussion of the people present."
Although this pop-up cafe is just a trial, if it proves to be a success and continues, it will join others already established across the world, such as in Edinburgh, and Toronto, Canada.
She said: "These cafes are already making the world a better place by improving the mental wellbeing of the participants.
"Women have come out going, 'Goodness, I now know I'm normal, I'm not the only one who gets angry one moment, upset the next. I'm not the only one who isn't interested in sex anymore'.
"Similarly, it helps their physical wellbeing because as they have got used to talking in a safe space about menopause, some of them are better informed and better able to look after their physical being.
"We enable women to have conversations in the menopause cafe so they can have menopause conversations outside in the real world.
"In my vision, I want there to be no need for menopause cafes because it will just be an ordinary topic of conversation."
That too is the vision of Jan Martin, 63, a qualified nurse and creator of Barnabas Arts House, Newport, which is hosting Wales' first event.
She said: "I feel it is very important to offer this safe space for women to talk and learn and get help.
"I went through the menopause and it was a breeze, but some women have an awful time.
"We want to be here for them - provide a safe space where women will feel valued and listened to.
"The menopause still feels a bit like a hidden taboo, but no one will need to whisper here."
The menopause cafe will run at Barnabas Arts House, Newport, on Saturday, 14 July between 11:00 and 12:30BST. It is free of charge and friends and family members are welcome.
Related Internet Links
The BBC is not responsible for the content of external sites.