Donald Trump protests held in Wales during UK visit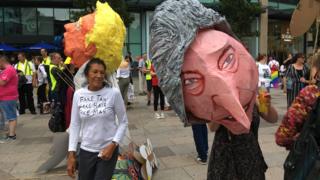 Protests have been held in Wales over the visit of US President Donald Trump.
Mr Trump and his wife Melania landed at Stansted on Thursday as he began a two-day working visit to the UK.
Almost 300 people gathered in Cardiff city centre with other protests being held in Swansea and outside the Senedd in Cardiff Bay.
Demonstrator Claudia Boes said she was pleased at the turnout, adding "even outside the normal political circles this is an issue that affects people".
About 150 people turned out in Swansea to voice their displeasure at the visit.
Catherine Fookes, director of Wales' Women's Equality Network, said the Senedd protest aimed "to show that Wales is against the casual racism and sexism of Trump".
Mr Trump has said that Britons "like me a lot" and he feels "fine" about any protests.
Mr Trump is due to meet Prime Minister Theresa May, who is seeking a post-Brexit trade deal - days after he said the UK was in "turmoil".
Speaking at the Nato summit in Brussels before he arrived, he said the UK was a "hot spot right now".
On Friday, Mr Trump will hold talks with the prime minster at Chequers before meeting the Queen at Windsor Castle.