Shock at imminent closure of Caernarfon nursing home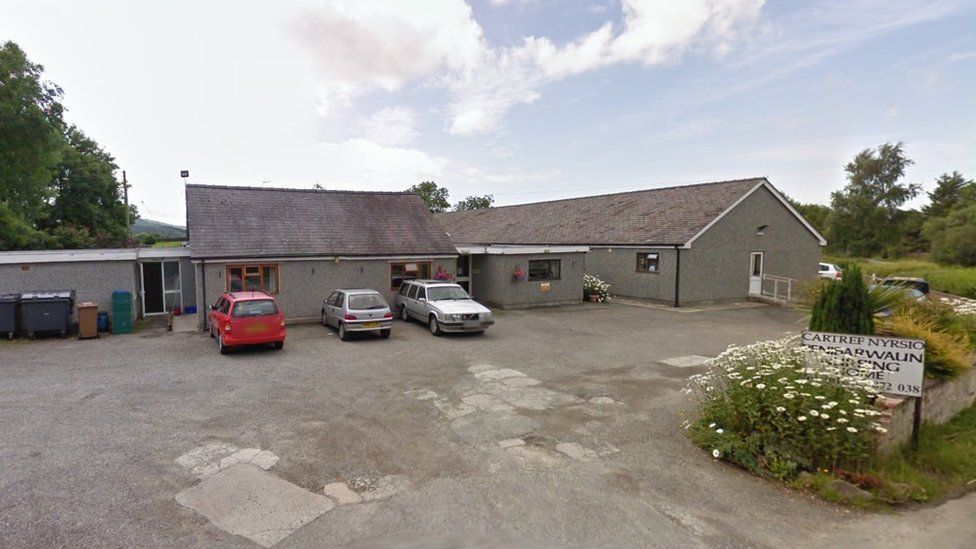 Staff and families of residents at a nursing home say they are stunned to discover it will close with only one week's notice.
The privately-run Penisarwaen home, in Caernarfon, Gwynedd, currently has 20 residents and about 20 staff.
In May, Care Inspectorate Wales (CIW) designated it a "service of concern".
The owners announced on Wednesday the home would close next week after the business was placed in the hands of liquidators.
Enforcement action had been taken by CIW to prevent further admissions until "unacceptable risks to people's health and welfare were fully addressed".
Inspectors had been generally happy with the homely environment and the "kind and caring" staff, but a shortage of staff was the reason behind most of the problems they encountered.
They found residents with complex needs were not adequately monitored, there was no management of falls, staff training needed to be improved, and management of medication was not effective.
Gwyn Parri, whose mother is a resident, said it was "a terrible shock" to hear of the closure.
"We knew there were concerns here, in that Care Inspectorate Wales had concerns, and the report had been quite damning recently," he said.
"But to be told over the phone that the company had gone into liquidation was a terrible shock."
Mr Parri's wife, Annette, said she was concerned about moving her mother-in-law to a new home.
"She was so ill last week and the doctor has been to see her three times," she said.
Jean Jones, who work at the home alongside her husband, said: "We're losing two wages. I've still got a mortgage to pay and when this place closes who's going to help me out?
"It's not just me - everybody is in the same situation. Some people have got three, four young children."
Betsi Cadwaladr University Health Board and Gwynedd Council issued a joint statement saying: "Our priority is to support and protect the health and wellbeing of the home's residents as we work with the families to identify suitable alternative accommodation.
"We are doing everything possible to meet the needs of each and every one of the residents and we are in regular contact with the families of the residents to discuss the matter."
Care Forum Wales said the pressures care and nursing homes currently face are due to a lack of adequate funding and difficulties recruiting suitable staff.