Great Western Railway's World Cup Final staffing excuse criticised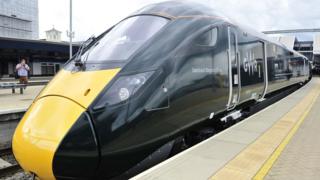 A rail firm has been criticised for showing a "complete disregard for passengers" after a lack of staff caused disruption.
Customers vented their anger on social media, with some posting photos of overcrowded trains on Great Western Railway services on Sunday.
The firm blamed a lack of staff on a series of events including the heatwave and the World Cup Final.
The company apologised but campaigners criticised the firm's "bad management".
Cardiff Central MP Jo Stevens posted on social media that the events - including ongoing engineering works and the school holidays - which were blamed for the delays between Cardiff Central and London were "predictable".
"Once again a franchise operator is displaying their complete disregard for passengers, leaving it until the day before to confirm weekend timetable changes," she said.
"A string of excuses, all of which were predictable events, culminates in the admission of a lack of staff. That's not unfortunate, that's bad management."
Bruce Williamson, from campaign group Rail Future, said: "It's understandable passengers get very upset when there's a poor service like this."
A GWR spokesperson apologised for any inconvenience, but said travel advice had been issued on Friday and updated over the weekend.
But passengers claimed the operator had left it too late to warn customers of the "significantly reduced service".
The GWR spokesperson said: "We worked hard to run as many services as possible, and ran around 95% of services across the network.
"However, there were still some changes to services, particularly on long distance routes meaning services that did run would have been busier than normal."