Killing five badgers in TB cull cost £380,000, report says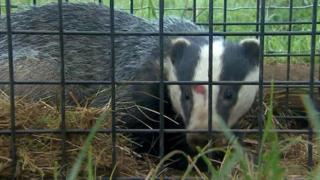 More than £380,000 was spent killing just five badgers in a bid to stop the spread of TB, a report has said.
In March 2017, a cull begun in Wales at farms where they were believed to be infecting cows with the disease.
However, the Badger Trust said it was a distraction from dealing with key causes and called for culling to end.
The Welsh Government said targeted badger culls cleared up chronically infected herds, which could prove costly to the taxpayer and industry.
The report reviewed the outcomes of work at three farms by the Welsh Government between August and November 2017.
Bacteria can spread
Across these sites, badgers were trapped and tested for TB and killed if they proved positive.
The cost of the trapping, equipment, testing and post-mortem examinations came to £383,212 or £76,662 for each of the badgers killed.
This figure also included work to protect cattle and stop the disease spreading.
Bovine TB is an infectious, mainly respiratory, disease, where bacteria can be spread between animals to cattle.
However, when blood tests were repeated in the laboratory, none proved positive on a 12-week tissue culture.
Badger Trust chief executive Dominic Dyer described the policy as "a huge failure".
"Any form of badger culling is a hugely costly distraction from dealing with the key causes of the spread of bovine TB in the cattle industry."
He called for an immediate end to culling and said the previous vaccination policy as "far more cost effective and humane".
The Welsh Government pointed to the fact the TB organism does not grow easily in the laboratory, meaning a negative test does not prove the animals did not have it.
"Badgers are only trapped and tested where evidence suggests they are causing TB in chronic breakdown herds," a spokesman said.
"Targeted interventions are being applied to limit the number of badgers removed, helping stop transmission and clearing up chronically infected herds, which are costly to the taxpayer and industry."
However, the spokesman said cabinet secretary for energy, planning and rural affairs Lesley Griffiths "continues to rule out an England style badger cull".