Spice taskforce in Wrexham 'saved my life'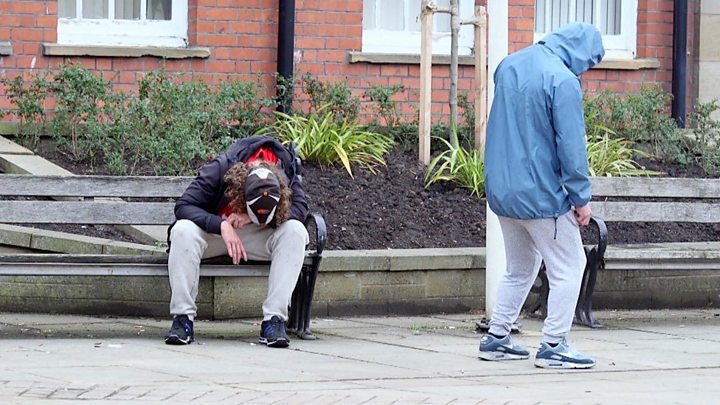 Steve Williams couldn't remember what a "clean" life was like. The 47-year-old from Wrexham had moved from one addiction to another since his early teens.
"The life I was living, it was getting to the stage where it would have killed me. Some days I got in that dark a place that I thought that death would be better than what I'm living."
Last year, Steve went into detox and underwent a residential treatment programme for his addiction to Spice.
Spice is 10 times worse than crack cocaine and heroin together
A synthetic drug, which was previously described as a "legal high," it was outlawed two years ago, but its use is prevalent.
The effects are highly visible, sometimes it's called the "zombie drug" because of the collapsed states users fall into.
The drug is cheap, and Steve began smoking it in vast quantities.
"Spice is 10 times worse than crack cocaine and heroin together, it's one wicked drug, it's evil," he says.
"With heroin and drink you can function to a point, you can go to work on heroin or alcohol. With Spice you can't do nothing, you don't want to do nothing. You just want to sit where you are and smoke and smoke and smoke."
'Russian roulette' drug hitting the homeless
'Potent' Spice samples lead to hospitalisations
Ban on so-called legal highs comes into force
Steve was offered a fast-track to detox and rehabilitation for his addiction to Spice through a new scheme that has been set up in Wrexham.
Last year the town hit the headlines when images of people in "zombie-like states" appeared in the media.
All I know is drugs, that's it, I've got no-one else except drugs
There was one day, when every single police officer in the town was involved in dealing with a Spice-related incident.
The photos, coupled with a rise in anti-social behaviour, led to concerns from some local people and businesses that Wrexham was gaining a reputation as Spice Town.
In response, Wrexham Council, health and housing agencies, North Wales Police, homelessness and drugs charities joined forces and set up a taskforce, recognising that they needed to work together to try to offer a new approach.
Steve Campbell has been helping to co-ordinate the group.
He has profiled more than 90 people who are known to be involved with substance misuse and who gather in Wrexham town centre.
Most of them are homeless and rough sleepers, but not all are so.
The database he has created contains:
Detailed information about each individual, including the substances they use
The number of times an ambulance has been called out to them
Whether they've committed antisocial behaviour
Their housing and benefits situation and their interaction with the police and the criminal justice system.
Mr Campbell said the profiling allows them to get to know each person and what kind of help they'll need, if they decide to accept it.
They are monitored to see how their circumstances change from week to week.
From these 90 profiled, the 20 of the most vulnerable have been identified and targeted for help. In some cases, that will be a rapid referral to detox and rehab without the need to go through the usual procedure which can take up to a year.
"People have to go through a process to access detox and rehab, and it works well for the large majority of people and ensures that they are ready for it," said Mr Campbell.
"But for a certain cohort - the chaotic drug users that we are talking about - they are not capable of making those appointments, they don't know what day it is."
He said it was about a process for those incapable of using the normal system that "just doesn't work for them".
Read these stories about the same issue:
The impact of Spice in one image
Boy, 11, left 'zombie-like' after taking drug
Is there a drug problem in Wrexham?
Steve Williams credits his residential treatment at the Phoenix Centre in Birkenhead, which has so far cost the taskforce about £20,000, as having saved his life.
"I was getting to the stage where my drug and alcohol workers wouldn't put me through with the funding because I was high risk, then this scheme came along where I got the chance and opportunity to go.
"Because it was no good to me saying you can go on it but 'do this course, do that course' 'cos it wouldn't have happened, I'd have got deeper and deeper. This scheme took all that out, took me straight to what I needed and moved me onto this place - what saved my life - it has saved my life."
Providing a "one-stop shop" of services also plays a part in the new approach.
Every Friday, a drop-in clinic is held, where a GP and nurses, housing professionals, drugs outreach workers, probation and benefits officers and third sector organisations can be seen without the need for an appointment.
People can access help and their condition can be monitored.
Craig, 43, started taking drugs when he was 17. He is a regular at the drop-in centre where he accesses support, but says he doesn't yet feel ready to take the next step into detox.
"All I know is drugs, that's it, I've got no-one else except drugs. What's holding me back is that, I'm proper scared of doing it," he says.
The partnership approach has been operational for about a year and those behind the project say they are seeing results.
So far more than 19 people, like Steve Williams, have made it into the programme of detox or rehab. Others have started engaging with services for the first time.
Huw Jones, from Wrexham Council, said success will be measured on a case-by-case basis and justifies the cost, by claiming it makes financial sense too.
"This is preventative work and it's an investment in the future. By spending money now and enabling these people to turn their lives around, we are reducing demand on health services, A&E, on ambulances and the police.
"So in the long term we are saving money and I think it's important that people understand that."
Some people's lives are being changed in Wrexham, but there are many more who are still on Spice.
A recent audit carried out by the taskforce, shows that the amount of police time spent dealing with Spice-related incidents in Wrexham has dropped by 31% per cent since the programme began.
The North Wales force has also been carrying out targeted raids, but one of the biggest challenges that remains is trying to keep the drug off the streets.