Child abuser David Boswell still on Pembrokeshire council payroll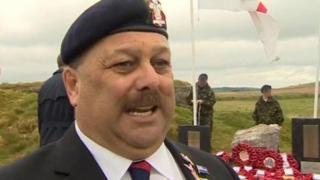 A county councillor convicted of child sex abuse will still be paid this month despite being given an 18-year sentence.
David Boswell, 58, of Pembroke Dock, was jailed last week after raping a young girl and abusing another.
He has refused to resign, and Pembrokeshire County Council confirmed Boswell remained on its payroll until it could legally kick him out.
Children's charity NSPCC has called for a change in the law.
Boswell was elected to represent Pembroke St Mary North in May 2017.
He went on to become town mayor, but stepped aside from the role less than three months later after being charged by police.
While under investigation and awaiting trial, the former soldier continued to be paid his annual salary of £13,600.
Under the Local Government Act 1972, a councillor can be removed if they fail to attend any meetings for six consecutive months - but Boswell continued to attend meetings ahead of his trial.
Despite him being found guilty of four counts of indecent assault and one count of rape following a trial, the council said it still could not instantly sack Boswell.
It now has to wait 28 days to see if Boswell lodges an appeal against his conviction.
A spokesman confirmed that during this period Boswell would still "technically" remain a councillor - and therefore still be paid. In theory, if the council were to remove him ahead of that date, it could be sued.
The NSPCC expressed outrage at the situation.
A spokesman said: "Boswell was convicted of appalling sex offences against children and it is right that he now faces many years behind bars where he cannot harm others.
"It is wrong that someone convicted of sexual crimes against children can continue to serve as an elected official for any period of time, and we support a change to the law to ensure situations like this are not repeated."
The Welsh Local Government Association said councillors were subject to a "strict statutory code of conduct", and elected officials getting criminal convictions was "extremely rare".
A spokesman said: "The issue in question is a legal anomaly in the current framework that needs to be urgently addressed. A guilty verdict does mean an automatic disqualification, following a 28-day window for a possible appeal.
"This is where the problem is located and needs urgent review, especially as this deplorable offence is a fundamental breach of the statutory duty that councillors have to ensure that all children within local authority areas are safeguarded and protected."