'Incredibly low' number of carers offered needs assessment
By India Pollock
BBC Wales social affairs correspondent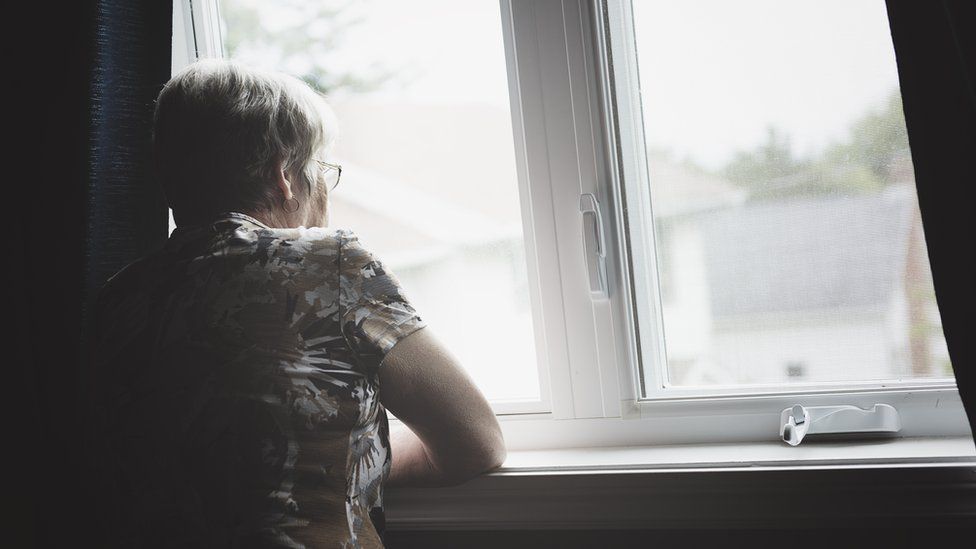 An "incredibly low" number of unpaid carers in Wales were offered extra support last year, a charity says.
People who look after a loved one are legally entitled to a needs assessment to see whether they are eligible for additional help.
But in 2016-17, 13,071 out of 370,000 carers were offered an assessment - just 3.5% of carers.
The Welsh Local Government Association (WLGA) said it recognised the need to increase awareness of the service.
In order to access the help, carers must undergo a needs assessment from their local authority to determine the assistance they need.
This can include aid with transport, housework or measures to relieve stress.
Around half of those offered an assessment refused one, but 6,207 accepted.
But of those, only 1,823 received a package of support, representing only 0.5% of Welsh carers.
Brenda Griffiths, 81, is a full-time carer for her husband Hugh, who has Alzheimer's.
She managed for several years without any extra help, but now receives 12 hours of respite care per week after a carers' assessment.
However, even with extra assistance, she said she rarely has time for herself.
"Carers are overlooked - you have to put clean clothes out, you have to make certain there are towels out... you have to make certain that you have incontinence pads and all of that that goes with it.
"I get up, make tea, Hugh has breakfast in bed and a cup of tea, sometimes he wants to use the bathroom and then you prepare for the carers coming in at 9:15 and they leave at 10:15.
"I have to cope otherwise Hugh would have to go into a home and he wouldn't last any length of time at all. It's what life has given me and I cope."
Victoria Lloyd, chief executive of Age Cymru, said the number of people being offered an assessment was "incredibly low" and did not reflect the needs of carers across Wales.
"Two-thirds of them have their own health problems so it does lead you to believe we should be doing more carers assessments and we should be providing more support and advice to carers for their own health and wellbeing and for that of the people they're caring for."
The Assembly's health, care and sport committee has announced it is launching an inquiry to look at support and information available to carers.
It will look at the impact of the Social Services and Wellbeing Act including assessments of need, provision of support including respite care as well as the information collected by councils and health boards on carers and their needs.
It will also consider broader Welsh Government policy.
Dai Lloyd AM, chairman of the committee, said that carers need the right support in place.
"Anyone who is a carer or knows a carer or who is being cared for should have an interest in this inquiry and I urge them to get involved and help to shape our findings."
The Welsh Government said 96% of the care provided in communities across Wales is given freely by family and friends and those carers contribute more than £8.1bn to the Welsh economy every year.
Councillor Susan Elsmore, deputy spokeswoman for health and social care at the WLGA, said many carers are not in contact with social services so may not be aware of their right to an assessment, but councils do publish the information.
She said: "Even where carers are aware of their rights, more than half of those offered an assessment refuse. We therefore need to redouble our efforts as this is an on-going process and I would expect the number of assessments to increase as awareness increases."