Magaluf: Thomas Channon 'fell over wall' to his death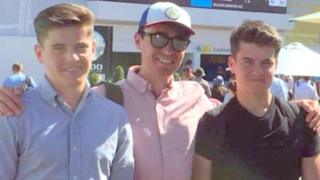 A teenager on holiday in Spain was killed in a 70ft plunge after falling over a knee-high wall, the worker who found his body has said.
Thomas Channon, 18, from Rhoose, Vale of Glamorgan, died at the Eden Roc complex in Magaluf on Thursday.
He was found by a gardener at the apartments, but it is not known how he fell over the wall.
On Monday, his parents described him as a "model son, brother and grandson who will be dearly missed".
The worker said the teenager fell from a low wall which runs around the front of the complex and is about knee height but has a 70ft (21m) drop on the other side.
Mr Channon had been with a group of friends celebrating the end of their A-Levels.
"There's no safety sign to warn anyone of the dangers," said Jane Champ, the mother of one of the teenagers who was on holiday with him.
"There's just this low wall and actually if you look at it from a couple of steps back, you would just assume it was a garden."
However, she said if you peer over "it's oblivion".
Kelly Chamberlain, the mother of another of Mr Channon's friends said: "If I could go over there now and just sit there every night to stop it happening, I would do."
Mr Channon was staying at the nearby Universal Hotel Florida.
Spanish police believe he wandered into the Eden Roc complex after losing his friends at about 04:00 local time on Thursday.
It was initially thought he had fallen from a balcony and inquiries into his death are ongoing.
Mr Channon is the third holidaymaker from the UK to die at the Eden Roc complex this year.
In April, Scottish teenager Natalie Cormack, 19, fell to her death from the seventh floor.
In June, 20-year-old Tom Hughes from Wrexham died after falling about 65ft (20m) from the apartment block.
Mr Channon studied A-levels in economics, history and English literature at St David's College in Cardiff.
A spokeswoman described him as being "respected by his teachers and loved by his friends".
A candlelit vigil in his memory was held at St Peter's Church in Rhoose on Tuesday.