New terminal and hotel in Cardiff Airport 20-year plan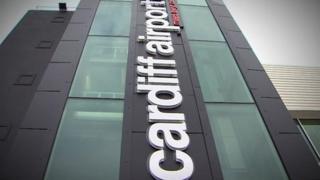 A new "smart" terminal and more destinations to fly to are part of a vision to expand Cardiff Airport over the next 20 years.
The draft "masterplan" was launched for consultation on Wednesday.
It includes moves to create a new rail link off the Cardiff to Bridgend coastal line, which has previously met some local opposition.
Cardiff Airport said the vision would "generate significant economic benefits for Wales".
Meanwhile, the operation of the nearby St Athan airfield and business park is to pass to the Welsh Government and Cardiff airport.
Welsh government-owned Cardiff Airport, which is based near Rhoose in the Vale of Glamorgan, reiterated its plan to grow from 1.5 million to three million passengers, and said the airport must be integrated into both local and national planning.
The plan includes:
Attracting new airlines, to secure new routes and more choice for customers travelling to and from the region
Diversifying the airport to develop opportunities for aviation, cargo, education, technology and innovation
Developing a new terminal, creating "best in class" facilities, including the latest "smart" technology
Building a new four-star hotel, including business meeting and conference facilities
Creating an "integrated transport facility" - including a rail spur off the Vale of Glamorgan line. This is already being opposed by a local residents' group.
Developing a new multi-storey car park close to the terminal building
At the "masterplan" launch event at the airport, First Minister Carwyn Jones said the improvements were "ambitious yet achievable".
He said that "we took a punt in buying this airport" but that confidence had been repaid.
Transport Secretary Ken Skates added that they had no ambition to sell the airport "for the sake of it" but said that investment could not just come from government funding but from the airport's own success and private sources.
Deb Barber, CEO of Cardiff Airport, added: "This masterplan has been created to set out milestones up to the year 2040 that enable us to meet our vision for the future and position Cardiff Airport as a key part of the UK's transport strategy."
Cardiff Airport said it is "starting a dialogue" and asking for feedback on the draft plan by 14 September. A final plan will then be launched in the autumn.
Meanwhile, the Cardiff to Doha route is not performing as expected according to Qatar Airways chief executive Akbar al-Baker.
In an interview with The Independent, he said: "Cardiff is still not performing what we expected it to perform.
"We are giving time. We hope Cardiff will come around passenger-wise."
Mr Al-Baker added: "Air freight-wise, we are doing absolutely well. There is a lot of air freight demand in and out of Cardiff.
"It is a long-term investment and we will wait and see how the Cardiff flights will rebound."
The service was launched in May and started running daily from the middle of June.
Cardiff Airport said all routes take time to mature and the Qatar Airways link had improved since its launch in May. It said that last week it sold more than 1,500 of its 1,750 seats to Doha.