Magaluf death: Thomas Channon's dad criticises apartment safety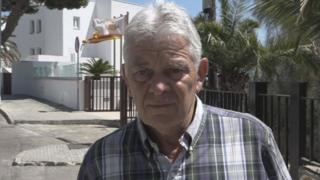 A father says his son's death could have been prevented had safety been improved following two previous deaths at a Spanish apartment block.
Thomas Channon, 18, from Rhoose, Vale of Glamorgan, fell about 70ft (21m) over a knee-high wall at the Eden Roc complex in Magaluf last Thursday.
He is the third holidaymaker from the UK to die at the complex this year.
Local officials met last week to "see what more actions" could be carried out to make sure it did not happen again.
"If something had been done after the last accident, this would never have happened," John Channon told ITV.
"It's an insult to what happened to Tom and his memory," he said in an interview on Good Morning Britain.
"It was only a month ago when the last person fell over that same place. No measures were taken at the time, no measures have been taken as we stand here now in the same place.
"This is a real danger, a real hazard - you could lose your life here."
The deputy mayor of Magaluf, Andreu Serra, said local police and the Civil Guard were in the process of carrying out a "detailed investigation to understand the basics of what happened".
He added: "Before this latest incident we took some measures with the building owners to make sure that they comply with existing regulations...
"We're also looking at what infrastructure measures they're taking in the building where it happened to make sure it won't happen again."
Mr Channon had been with a group of friends celebrating the end of their A-Levels when he fell.
He had been staying at a nearby hotel but Spanish police believe he wandered into the Eden Roc complex after losing his friends.
His body was found by a gardener at the apartments, having fallen from a low wall which runs around the front of the complex - it is about knee height but has a 70ft (21m) drop on the other side.
Inquiries into his death are ongoing.
His parents described him as a "model son, brother and grandson who will be dearly missed".
About 300 people took part in a candlelit vigil and signed a book of condolence in Mr Channon's memory at St Peter's Church in Rhoose on Tuesday.
"It was a very emotional day," said Revd Melanie Prince, speaking on BBC Radio Wales' Good Morning Wales programme.
In June, 20-year-old Tom Hughes from Wrexham died after falling about 65ft (20m) from the apartment block.
And Natalie Cormack, 19, from West Kilbride in Ayrshire, fell to her death from the seventh floor in April.