Magaluf death: Thomas Channon's dad calls for safety changes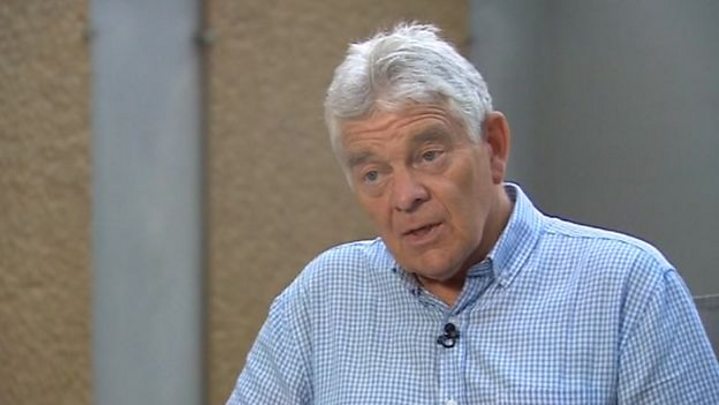 The father of a teenager who fell to his death in Magaluf has said it is "totally impossible" to put his grief into words.
Football player Thomas Channon, 18, from Rhoose, Vale of Glamorgan, fell about 70ft (21m) over a knee-high wall at the Eden Roc complex last Thursday.
He is the third UK holidaymaker to die at the complex in Mallorca this year.
His father John said urgent safety changes were needed to make sure his son's death was not in vain.
"I think the worst possible thing for any parent is to lose a child," he told BBC Wales.
"I think we have this expectation that as we get older there might be onus that people might pass away, I don't think you ever expect that your children might go before you...it's totally devastating."
His son Thomas, known as Tom, was on holiday in Magaluf celebrating the end of his A-levels with his friends when he fell at the apartment block.
He had finished his studies at St David's College, Cardiff, and had been staying at a nearby hotel but Spanish police believe he wandered into the Eden Roc complex after losing his friends.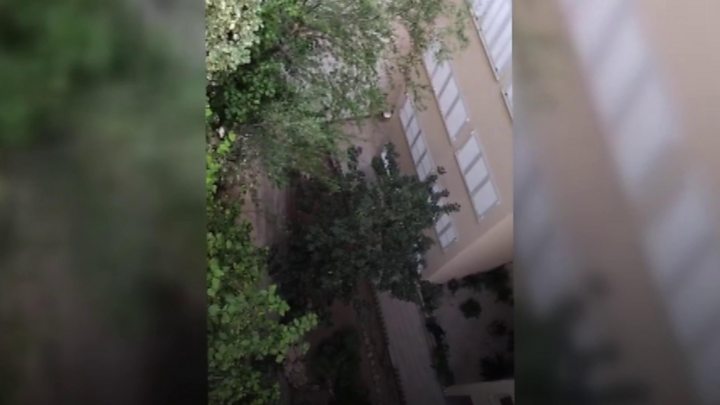 His body was found by a gardener at the apartments, having fallen from a low wall which runs around the front of the complex - it is about knee-height but has a 70ft (21m) drop on the other side.
Mr Channon said his son's death was "preventable" as he was the second person to fall from the apartment block in a month, and urgent action was needed to make sure that no other parent faced the same pain.
In June, 20-year-old Tom Hughes from Wrexham also died after falling about 65ft (20m) from the same apartment block.
In April, Scottish teenager Natalie Cormack, 19, fell to her death from the seventh floor.
The local authority has said it has regular safety checks across properties in Magaluf, and the buildings are regarded as safe.
But Mr Channon said if action had been taken a month ago after the last death his son would still be here.
He said: "No one has put up a barrier, no one has put up a fence, no one has even put up a warning sign saying "danger, keep out, keep away".
"What it effectively means is that Tom didn't need to die, it was totally unnecessary, avoidable, it was preventable, if only someone a month ago had actually taken some action."
Mr Channon said that his son, who enjoyed sport and had a "fantastic group of friends", had just gone on holiday to enjoy himself with his mates and had lost his life.
"He was like any other young person of that age, full of life," he said, adding the family just wanted to find out what happened to Tom.
"I think we all know that a lot of young people come to Magaluf," he said.
"They want to have a good time, they want to enjoy themselves, they want to have a drink, they want to go on the beach, they want to party and it's quite clearly a major issue in Magaluf," he said, adding the issues had become blurred and this was about safety.
"Tom didn't die in vain and we will push to make sure we have some answers and to make sure something is in place urgently to make sure you're not put in this position again listening, perhaps, to some other poor grieving parent who is in the same position."
Local police and the Civil Guard are in the process of carrying out an investigation, and infrastructure measures are being looked at at the apartment block to make sure another death does not happen.
But Mr Channon said he hoped his son's death would remain in other parents' minds as their children set off on their first solo trips abroad this year.
"Remember what has happened to us as a family," he said.
"Quite clearly we all want our sons or daughters to go away and enjoy themselves, just as Tom was, with a very tight-knit group of friends, looking forward to a great holiday, going on the beach and having a great time together, but just try to make them aware that if they are coming here there are real dangers.
"If anything comes out of this awful tragedy it must be that parents recognise that they really have to take this seriously, as I wouldn't want any other parent to be going through what we're going through at the moment, and I certainly wouldn't want them to go through something that is preventable and need not have happened."