Campaign for Rhodri Morgan statue supported by widow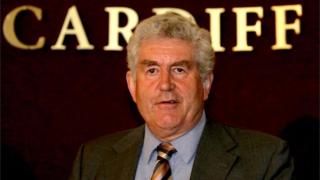 The widow of former First Minister Rhodri Morgan has said she is "thoroughly behind" a campaign to erect a statue in his memory, while adding he would "definitely" not have wanted one.
The campaign, led by councillor Dilwar Ali, aims to raise £100,000 for a statue near the Senedd in Cardiff Bay.
Cardiff North AM Julie Morgan said: "Certainly statues were not Rhodri's style."
But she added: "Anything that builds our history is a good thing."
Mr Morgan died in May last year, aged 77.
He has been credited with bringing stability to the Welsh Assembly during his nine years in charge.
Speaking about the plans for a statue, Mrs Morgan said: "I was cautious, I felt this is not something Rhodri would have wanted.
"But having listened to all the different arguments and seen the enthusiasm from the group of his political friends who are doing this, I'm thoroughly behind it now."
She said: "I think he would have wondered if that was the way that he would want to be remembered, but I think that the people behind the campaign feel his contribution to Welsh devolution was such that there should be something to mark that.
"It's quite interesting really, because statues can grow beyond the actual statue, they can become places to meet and to gather and that sort of thing could happen."
Mrs Morgan said while she felt devolution was now embedded in the nation, it was still relatively new.
"Anything that builds our history is a good thing and Rhodri was very interested in history... so I think landmarks about what has been devolution since 1999 are really important. This could be one of those."