Tour de France: Geraint Thomas' rise from humble beginnings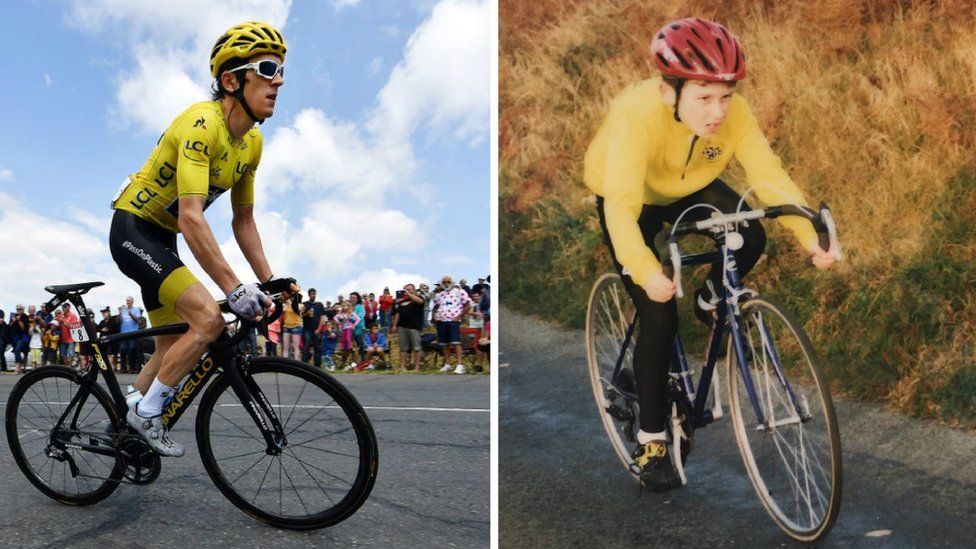 It could have been very different for Geraint Thomas, the Welshman who is set to win the Tour de France on Sunday.
His childhood coach said he might not have cycled at all had he not, aged nine, been leaving a Cardiff swimming pool one day 23 years ago.
But fortunately for Thomas - and for his many fans - Maindy Flyers Youth Cycling Club's then coach Debbie Wharton was taking a session.
"It was lucky he came for a swim and it was lucky we had a bike that fit him," she said, explaining how he was sold as soon as he saw other children cycling around the outdoor velodrome.
Thomas, a former pupil of Whitchurch High School which also boasts Sam Warburton and Gareth Bale among its alumni, just needs to cross the finish line in Paris on Sunday to be named the race champion.
Tour convention dictates that the race leader is never challenged on the final stage, so Thomas only needs to reach the finish in Paris on Sunday to win.
The Maindy Flyers club, a small, "oversubscribed" 200-member club which has proved an unlikely, highly-productive stable for professional Welsh cyclists, is where it all started for Thomas.
In addition to Thomas, Olympic and world champion Elinor Barker and her sister Meg rode with the Flyers, as did Owain Doull, the first Welsh speaker to win Olympic gold.
Coach Faris Soliman said Thomas is still a regular at the club where it all began, helping inspire the next generation.
"He has been down a couple of times to see the kids and he's taken a couple of sessions," said Mr Soliman, a doctor at the University Hospital of Wales.
"Year on year, he is progressing - that's what is fantastic to watch.
"Not only is he at the top level of cycling, but he is a great role model - he puts time back into the club."
Ms Wharton resisted the urge to say she always recognised Thomas as a potential future winner of the Tour de France, but said he showed early promise.
"He was always good - he looked really nice on the bike, he was interested in the Tour de France - but he just progressed suddenly," said Ms Wharton.
"His parents were really sensible, making sure he wasn't doing too much training."
People really started to take notice of Thomas when he was 14 after he swept aside much older competition to win a medal at the national track championships.
"People wondered 'how can he go so fast?' That was when people started saying 'there's something special here'," she explained.
"It wasn't that we were making him fast, it was just that he had the opportunity to train and compete."
"If the cycling club wasn't here, I don't think Geraint would have got into cycling because it was harder to get into the sport back then," she added.
Thomas's success in this year's Tour is "surreal", added Ms Wharton, who watched him grow as a person and a cyclist.
For his fans who have made the long journey out to France, Thomas's success has filled them with pride.
"It is just an amazing feeling seeing one of our own - a Welshman, Cymro - there with the best in the world, sticking it to them, beating Froome," said Trefor Williams in France.
And Tim Fry, who was watching with his three-year-old son Elliot, added: "I can't quite believe we are here really.
"We saw some Australian people on the way. They had flown from all the way across the world and there's a man from Whitchurch here leading the race."
As for the Maindy Flyers' members hoping to follow in Thomas's footsteps, they spoke of the invaluable inspiration he provides.
Fifteen-year-old Ben, who cycles in the Wales Youth Programme after just 18 months at the club, said Thomas was a "massive inspiration".
"Coming from a small club like this, he is showing the world what people from Wales and Britain can do," he said.
"He came down here not long ago with Owain Doull - he is super humble and super nice on and off the bike."
And 11-year-old Sophie added: "He tries to make you pursue your dream which helps you go that extra mile.
"We are trying to achieve what they have achieved and that makes you more confident and gives you motivation to do good in races."
But Thomas's victory tomorrow will be in no danger of going to his head, Ms Wharton reassured.
"He often comes back here and talks to the kids, rides around the track with them - he is very true to his roots, very humble.
"I sent him a message last week saying 'don't let Froome win'. He text me back and said: 'I will try not to'."
Related Internet Links
The BBC is not responsible for the content of external sites.