Heatwave: Ice cream maker celebrates but farmers worry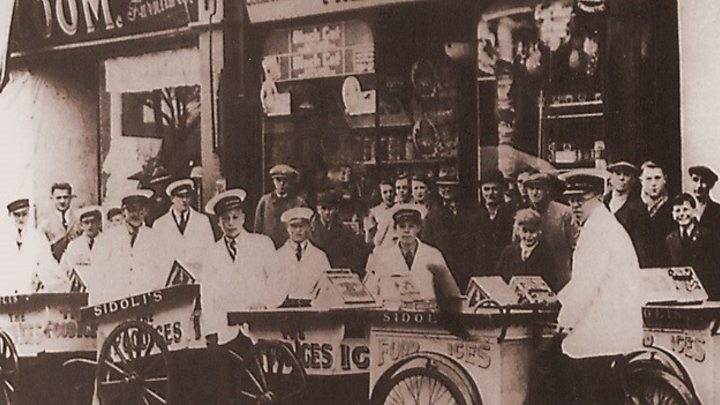 Dairy farmers are feeding next winter's food to cows and are paying double for bedding straw, while a family firm of ice cream makers are selling twice as much of the frozen dessert - two very different impacts of this summer's weather on peoples pockets.
What farmers and ice cream makers in Wales agree is that they have not seen the like of it since 1976.
Four generations of the Welsh-Italian Sidoli family have been making ice cream for nearly 100 years - and they have rarely had a summer quite like it.
Production has doubled to 20,000 litres a week to sell to various pubs, restaurants, shops and cafes.
If you're an ice cream maker like Sidoli's and their suppliers, the long spell of hot weather has been good news.
Mark Sidoli, the grandson of founder Benedetto Sidoli, is now in charge at the business in Ebbw Vale, Blaenau Gwent.
"I can remember the last time we had a summer like this was 1976," he said. "I was new to the business working for my dad and it was the first time and the last time that we worked a night shift to make enough ice cream."
It has not quite come to that yet, but the workforce is flat out.
But while ice cream has this weather licked - it is a different story for those producing the milk. And for that you need grass.
The Lougher family at Ty Tanglwyst Dairy in Pyle sell milk from their 110-strong herd directly to customers. They have another 140 cows which are "future milkers".
But without significant rain for many weeks, there are cracks in the ground and the grass is starting to yellow, with no fresh growth.
"I've never seen it as dry as this in my living memory," said 37-year-old Rhys Lougher. "This is unprecedented for me. We are getting seriously short of grass now.
"We need lots of young, leafy, green, juicy shoots of grass for all the nutrition and quality... We need a huge amount of rain to get back to where we need it to be."
Earlier in the year Mr Lougher and his father Mark had cut large amounts of grass to turn into silage to feed their cows during the winter - but they have already used a large chunk of it.
When asked what they would do in the winter, Mr Lougher laughed nervously.
If farmers across Wales are in the same position, there is likely to be a shortage of hay and silage by the end of the year, forcing up the price of animal feed.
Furthermore the cost of straw, needed for animal bedding, is reported to be double the price it was last year.
Farmers are already counting the cost of the cold snap in March. If the problems continue to pile up, farmers may put up their prices to consumers.
This could hit everyone in the pocket.
But what impact will the hot, dry weather have on the economy generally? According to the Office for National Statistics' (ONS) retail figures, we bought more in the shops when the sun began to shine in May, but spending fell back in June.
Darren Morgan, from the ONS, said: "Our spending patterns might change with the good weather.
"We may buy summer clothes and I suggest food for barbecues and barbecues themselves, but actually we are just substituting our spending pattern from one item to another."
For Sidoli's, Mark's son Stefano, assistant director, said: "More people are visiting the leisure sites, the seaside, enjoying the good weather, enjoying an ice cream, enjoying the beach and it has a knock-on effect for everyone."
Anecdotally that has been good news for tourism, but elsewhere, the effects of the dry weather are likely to be felt in the coming months.
For now though, it seems we are saving some money by savouring life in the great outdoors - even if we are buying more ice creams.