Cuddy workers 'had heard of problems'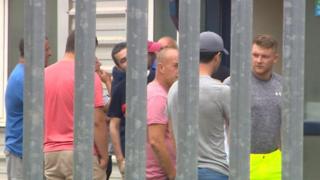 Building workers made redundant at the Cuddy Group have told BBC Wales they knew there were problems at the firm.
The business has gone into administration with managing director Mike Cuddy blaming his ill-health and the failure of anyone else to "step up" in his absence.
About 130 workers have been offered jobs elsewhere.
Mr Cuddy said he remained committed to his ownership of Neath rugby club.
Persimmon Homes has offered Cuddy workers jobs, saying the developer built 1,500 homes a year in south Wales and needed to add to its workforce of 400.
Two workers on the plant side of the firm, who will not benefit from the Persimmon offer, are among those now looking for work.
"We knew there were problems, all companies have got problems - it's just one of those things," said Jeff Jones.
"We've known for a few weeks, there have been rumblings and people have been talking but nothing official," said another, Eamon Quinlen.
Persimmon Homes managing director Martin Smith said: "I've had discussions with Cuddy - it appears many have already found work.
"I think they believed the likelihood of Cuddy going into administration has been looming for some weeks so some have made efforts to find work.
"We're still waiting to hear from them on the exact number yet to find work so we can meet with them, discuss their skill set and where they can fit into the Persimmon Group."
Meanwhile Neath Rugby issued a statement to say Mr Cuddy remained fully committed to the club and that their ties had always been "more than financial".
"While Cuddy Group was a primary sponsor of the club and provided additional support such as manpower to maintain the pitch and ground, the business is owned and financed by Mike Cuddy and his family," said the statement.
Mr Cuddy said: "Ill health has obviously meant I haven't been around as much as I would have liked over the past 18 months but I'd like to reassure supporters that I'm as committed as ever to the club."
The Cuddy Group lost 25% of its income in a year according to the most recent accounts. Some parts of the business are showing significant profits, while other parts show significant losses.
In October 2016, Mr Cuddy, 54, was struck down with neurosarcoidosis, which can lead to inflammation of tissues.
He spent six months in hospital and a further 18 months at home recuperating.
The company said challenges facing the company "increased month on month throughout 2017 and into 2018."