Brexit: Michael Gove believes tariff-free food trade 'likely'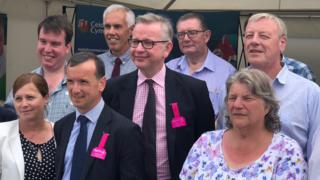 Tariff-free access to European food markets is "overwhelmingly" likely after Brexit, Environment Secretary Michael Gove believes.
"I think because a deal is in all our interests, that is what the outcome will be," he told BBC Wales.
On a visit to the Royal Welsh Show, Mr Gove said the EU had been constructive.
He added that its chief negotiator Michel Barnier did not want any trade barriers, quotas or tariffs "which was good news for Welsh farmers".
But he said that the UK was still preparing for all eventualities, including a no deal Brexit scenario, which was prudent.
You might be interested in these stories too
Jeremy Hunt warns of no deal 'by accident'
What would a no deal Brexit look like?
'We can get a deal done by October' - Raab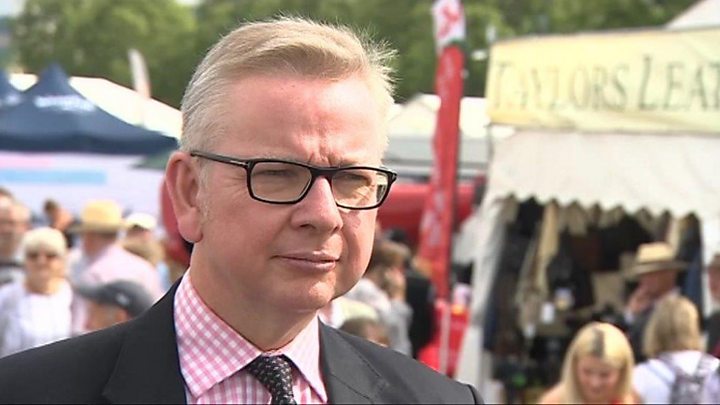 Asked what would happen on day one if there was no deal, he replied: "Well, we will get that deal and I'm confident that food and farming not just in Wales but across the UK will benefit from a win-win situation whereby we both manage to secure tariff-free access to European markets and at the same time we're outside the bureaucracy of the Common Agricultural Policy."
On Monday, Meat Promotion Wales' chairman, Kevin Roberts, warned that tariffs at any level would be "unthinkable" and a no deal Brexit would be "catastrophic".
Mr Gove's counterpart in Wales, Lesley Griffiths, also warned that "if you crash out, you can only imagine the chaos that will ensue".
But speaking at the show in Llanelwedd, Powys on Tuesday, Mr Gove said that farmers in Wales and across the UK would have "everything they need" after Brexit and an "absolute guarantee" that spending in cash terms would be protected until 2022.
"That's more of a guarantee of funding for farmers across the United Kingdom than any other European country is able to give its farmers," he added.
He said the funding would also not be via the Barnett formula - the calculation for transferring funding to the Welsh Government.
More from the Royal Welsh Show
Meat inspectors shortage 'crisis' blamed on Brexit
Dream summer for ice cream makers - but what about farmers?
No deal 'would be seismic shock' for farmers
Mr Gove said the message to farmers was "we've got your back, we're right behind you" and that there was a "brilliant future" ahead.
"We've been clearer than other European countries about the future level of funding, we've also been clearer about the nature of the trade arrangements we want to see, clearer about how that money will be spent so farmers can get the certainty they need so they can be more productive and clearer about the environmental benefits we want to secure as well," he added.