City drug gangs priority says retiring police chief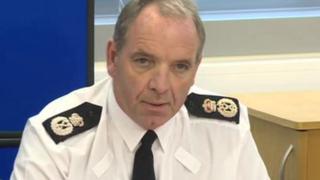 Gangs intent on flooding north Wales with drugs will remain the top priority for the region's police force, its retiring chief constable has insisted.
Speaking to BBC Wales, Chief Constable Mark Polin said policing is getting harder as budgets are cut.
North Wales' most senior police officer will step down on Friday.
But he will be taking to the beat one final time - as he joins his recently recruited son on patrol in Denbighshire.
Chief Constable Polin said his force was now one of many having to deal with so-called "county lines" drug gangs.
The "county lines" model sees dealers from cities like Manchester and Liverpool using people to spread their trade into smaller towns, using difficult-to-trace mobile phones to run the operations.
'£30m cuts'
The chief constable said the problem had been virtually unknown when he took over in November 2009.
"We are regularly taking down organised crime groups, who are engaged in the county lines model. The challenge here - as elsewhere - is that as soon as we take one down, there's another one following in their footsteps," he said.
"The challenges we face have blossomed, but yet I've had to cut £30m from the budget, which has had an impact, even though we've done as much as we can to protect the front line."
With less money, cutting serious crime and making sure people feel safe is "becoming more difficult now", added Mr Polin.
"So we as an organisation are looking at how we configure ourselves, such as how many officers we devote to neighbourhood policing, response teams, investigation - how do we cut that cake. "
Health board role
After stepping down from North Wales Police, Mr Polin is taking on another substantial challenge.
He will become the new chairman of the Betsi Cadwaladr University Health Board.
The health board remains under special measures following the scandal surrounding elderly mental health care in the region and concerns over leadership.