Welsh Government misses air pollution deadline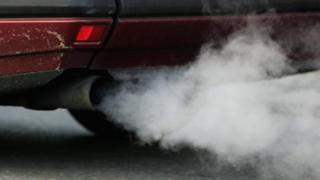 A deadline to deliver a plan on combating air pollution in Wales has been missed, it has been confirmed.
The government was taken to court by campaigners ClientEarth in January for failing to tackle pollution levels.
Welsh ministers were told to have a plan in place by 31 July. The High Court has agreed an autumn extension to ministers.
A Welsh Government spokesperson said the situation was "more complicated than originally thought".
In May, the government was warned the timetable proposed in its consultation draft suggested it would not meet the deadline.
The government's urgent application for an extension was granted by the High Court on Monday, giving ministers until 30 November to produce a plan.
"Not only is it astonishing that ministers have left it this late to apply for an extension, when we'd warned them of the issue in the spring, it's incredible that we even had to warn them in the first place," said ClientEarth lawyer Katie Nield.
"It doesn't inspire confidence.
"Pushing back the timetable for production of an air pollution plan will lead to further delays to action being taken to protect the health of people in Wales."
A spokesman for the Welsh Government said: "When the minister gave her interview, she had every reason to believe the deadline was achievable. However, the situation has proved to be more complicated than originally thought.
"An interim plan will be published by 31 July setting out current actions being taken in Wales with a final plan being published on or before the 30 November 2018."
"We are committed to tackling air pollution in Wales and have already put in place a range of measures to improve air quality in areas where targets are not currently being met."