Welsh Suffragette's belongings sell for record £48k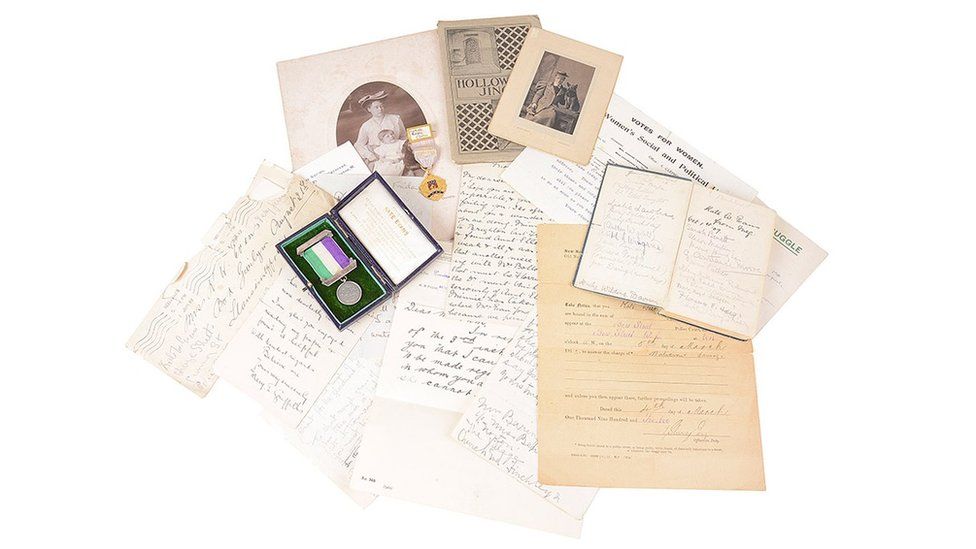 An arrest warrant and a hunger strike medal belonging to a Welsh suffragette are part of a rare collection which has sold for a record-breaking sum.
Powys-born suffragette Kate Evans was arrested in 1912 for "malicious damage" and was force fed in jail.
Now her belongings have been bought for £48,640 by the National Museum of Wales - four times over the estimated cost.
Auctioneer Catherine Southon said she was "gobsmacked" by the price it achieved.
The collection included a rare suffragette and hunger strike medal, along with letters, books and her arrest warrant.
Mrs Southon said: "The interest in this lot was phenomenal with bidders, on the phone, from all over the world.
"I was absolutely staggered how people were competing to buy this fascinating collection."
Sioned Hughes, keeper of history and archaeology at the National Museum Wales, in Cardiff, said: "While we had suffragist collections in Wales, and an example of anti-suffragette sentiment in Wales, until now we had very little in our collections relating to the Welsh suffragettes themselves.
"This collection will be a valuable asset to Wales' political and national history collections."
The engraved hunger strike medal was presented in a velvet-lined box with a gold inscription in the lid.
Previous sales of suffragette medals have fetched sums like £12,300 in 2015 for one belonging to Helen Macrae.
Mary Richardson's medal was sold in 2003 for £19,000.
Kate Williams Evans was born in 1866 in Llansantffraid, Powys and was an active member of the Women's Social and Political Union.
Mrs Evans spent much of her early years in Paris, where she met people that shaped her political ideology.
In her early 30s, much to the dismay of her parents, she became a suffragette fighting to get women the vote.
On 4 March 1912 she was arrested for the charge of "malicious damage".
She was imprisoned in Holloway prison and served 54 days in jail.
During her time in prison she refused food and was force fed along with many others.