Probation services face radical overhaul in Wales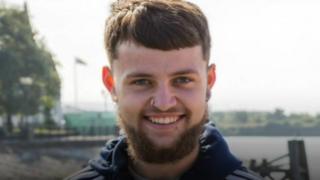 A radical overhaul has been put forward for the way offenders are supervised in Wales.
It would see private firms - set up to manage low and medium risk offenders - scrapped.
Instead, services would be brought back under the National Probation Service.
The Ministry of Justice (MoJ), which is consulting on the plan, said it would "strengthen the supervision of offenders and increase public confidence in community sentences".
The MoJ split up probation services three years ago.
High-risk offenders were managed by the National Probation Service but others became the responsibility of private companies, known as Community Rehabilitation Companies (CRCs).
But a number of concerns have been raised about the performance of the CRCs, including from the National Association of Probation Officers.
Data also showed a rise in the number of people on probation being charged with serious crimes.
Nadine Marshall, whose teenage son Conner was battered to death in Porthcawl by a man on probation, was one of those to speak out about the "shambolic" system.
David Braddon, from Caerphilly, was being monitored by probation workers after being convicted for drugs offences and assaulting a police officer when he murdered the 18-year-old.
He had missed eight probation appointments and is now serving a life term for Conner's murder.
Mrs Marshall, from Barry, told BBC Panorama last October: "[Conner's] murder was preventable in our opinion because of the eight missed appointments.
"Had the processes been followed David Braddon wouldn't have the opportunity to be in Porthcawl."
Now, the MoJ is looking to bring all probation services back under one roof in Wales and the CRC's contracts will end two years early in 2020.
Justice Secretary David Gauke said he wanted a service "that fundamentally reduces reoffending".
"We want to see a greater emphasis on community sentences, and less reliance on short custodial sentences, so they are only used as a last resort," he said.
"But to do this we must have a probation service that commands the confidence of the courts.
"I am confident the steps we are outlining today will build on the positive progress in Wales and improve rehabilitation - so we can ultimately cut the cost of reoffending."
Criminal justice powers are not devolved, however the Welsh government is responsible for aspects of the probation service such as health, education and social services.