Roseate chicks' flight marks 'mighty comeback'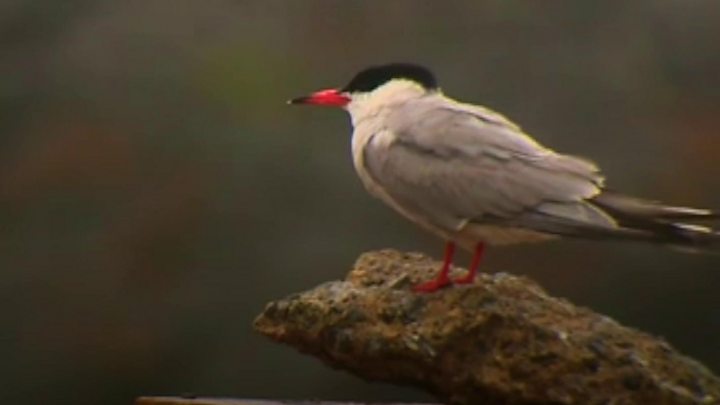 They were once on the verge of extinction due to their feathers being used to make fashionable hats.
Now, for the first time in more than a decade, two roseate tern chicks have hatched successfully and one has already left the nest on a small rocky island off the coast of Anglesey.
Their fledging marks a comeback for the bird after years of work to protect and boost its numbers on the Skerries.
"This news cannot be overstated," RSPB Cymru warden Ian Sims said.
The birds, which were once widespread across Wales, were threatened with extinction in the 19th Century when their plumage was prized for fashionable hats.
Two wardens live on the island each season to support EU-funded conservation efforts, receiving supplies once a week.
They design nest boxes for the terns and place lures playing roseate calls and hand-made decoys with the aim of attracting passing roseate terns to the colony.
Wardens also use a variety of methods to deter predators, including gull scarers, loudspeakers emitting alarm calls of lesser black-backed gulls.
"We have been working to protect the seabirds on the Skerries for many years and when it comes to breeding roseate terns, they have quite a variable history," Mr Sims said.
This year's chicks hatched on 10 July. One has fledged and the other is expected to leave the nest soon.
"In 2016 one pair bred but did not fledge any young. Before that they last bred in 2006 - when a pair fledged one chick," Mr Sims said.
The island is also monitored for rats, with wardens checking for bite marks on flavoured wax blocks in the bait stations, as a small number of rats can destroy the colony in a very short time.
The Skerries are crucial for breeding terns who migrate each spring from western Africa to just a handful of colonies in the UK and Ireland.
The coastal birds, with pale plumage with slight rosy flush, a black cap and a black beak, arrive at their breeding colonies from mid-May.
Other likely place to see roseate terns in summer are off the Northumberland coast and the Firth of Forth.