Plans to celebrate tour win by Geraint Thomas in Wales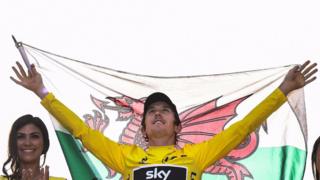 Politicians and city leaders say talks are under way about how to officially celebrate Geraint Thomas's historic Tour de France win.
The Cardiff rider became the first Welshman to win the race when he crossed the finish line in Paris on Sunday.
He carried a large Welsh flag on to the podium as he was crowned champion.
First Minister Carwyn Jones called it "the greatest individual performance by a Welsh sports star" ever.
This would rank it above others, including golfer Ian Woosnam's 1991 US Masters victory, the fights of former super-middleweight boxers Joe Calzaghe and Paralympian Tanni Grey-Thompson's 11 gold medal-winning performances.
Mr Jones said planning for a celebration to mark the achievement is at an early stage but there would "definitely" be something.
He also praised the cyclist, saying the sight of him on then podium with the Welsh flag was worth millions in terms of generating publicity and did more than a politician ever could.
Another Cardiff born Olympic gold medal winning cyclist, Elinor Barker, has called for the Tour de France winner to be knighted.
Meanwhile, Carmarthen Velodrome - which was built in 1900 and is one of the oldest in the world - could soon be renamed in Thomas's honour.
Although now living in Cardiff, Geraint's father Howell is originally from Bancyfelin - a small village between Carmarthen and St Clears.
Philip Hughes, a councillor for the area, said: "This is a very proud moment for everyone in the St Clears and Bancyfelin community.
"Geraint can now justifiably be called the best cyclist in the world, but he follows in the footsteps of other sporting legends from the village, including rugby heroes Delme Thomas, Mike Phillips and Jonathan Davies, who won man of the series in the British Lions tour of New Zealand last summer.
"Bancyfelin is truly a village of sporting champions."
Thomas landed in UK on Monday - but it is not yet known when he will be back in Wales.
His mother Hilary said: "I don't think he really understands what he has just done and he doesn't understand that the whole of Wales is behind him either.
"When he does come back home to Cardiff he is going to be shocked by what he has just happened."
Mr Jones said he would like an official celebration and talks would be held with Senedd officials about how, where and when it could take place.
"I would certainly like to do it. I think it is one of the standout sporting achievements in Welsh history," he said.
"I think it is important that we think about what we can do to say thanks to Geraint for what he has done for Wales."
Caro Wild, Cardiff's council's transport spokesperson, said the council is working on plans for "something really big" to welcome Thomas home.
He added: "We've heard how humble he is and wants a bit of normality so let's try and get that right.
"We've got a plan to be one of the best cycling cities in the UK. Normally at the end of your plan is when you get your Tour de France winner, we're getting our Tour de France winner at the beginning of it.
"The biggest tribute we could pay is to put in place a transport structure and cycling infrastructure that people can get around on safely."
Speaking after becoming the third Briton in the tour's history to ride into Paris in the leader's yellow jersey, Thomas said he was still in shock.
He said he was looking forward to "getting back and celebrating with everyone" - but at the same time "looking forward to a bit of normality as well" with his wife Sara.
"Watching breakfast TV in bed with a coffee, and just having some toast on the sofa with Sara, just simple things," he said.
"But, then you know, just realising I've won the tour is just crazy."
Sir Bradley Wiggins, who won the Tour in 2012, said Thomas may be "Wales' biggest sports star".
"Buying a pint of milk will be different for him now. He was well known in the cycling world, but the difference is now the general public will know him," he said.
"He won't be able to walk down the street in Wales now without people coming up to him."