Bowel cancer: Half of people ignoring the potential killer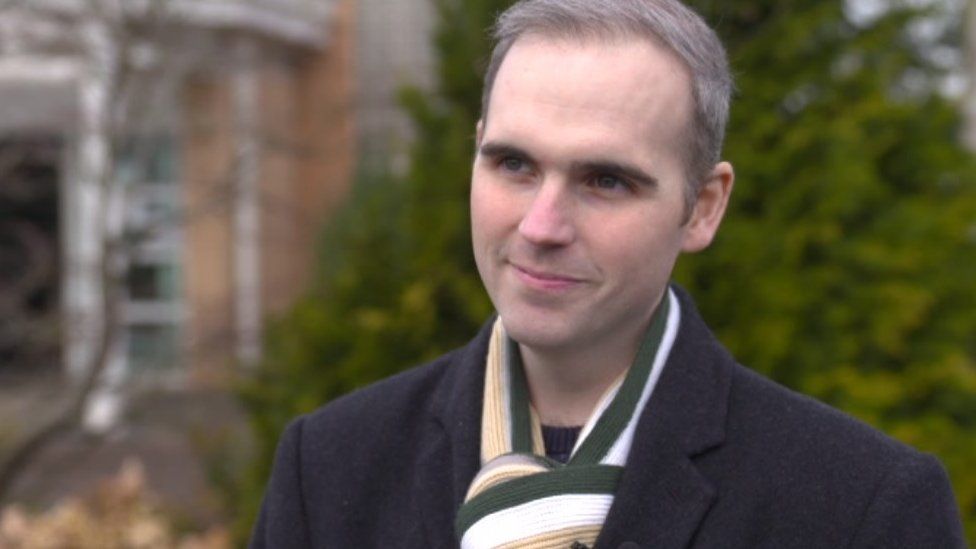 People are ignoring a potentially deadly cancer with only half of those eligible getting screened for it, new figures show.
Bowel cancer is the fourth most common type in the UK and second biggest killer in Wales - with 2,200 diagnosed with it each year and 900 dying.
Everyone aged 60 to 74 and registered with a GP receives a test in the post every two years that looks for signs.
Despite it being treatable, 50% of people in some areas ignore it.
Father-of-one Steffan Lewis, who was diagnosed with stage four cancer in November, said people can have a "very high" chance of surviving by doing the test.
"I was 32 and I know how important it is (the test) as that type of cancer is entirely curable if caught early," said south east Wales central Assembly Member Mr Lewis, who would have been too young to be eligible for the screening.
"If caught at stage one or two, there is a straightforward operation. I was unfortunate my symptoms didn't show until stage four."
In all, about 280,000 people are asked to be screened every year by being sent the test by Bowel Screening Wales, which forms part of the NHS.
But latest figures from Public Health Wales show the numbers taking the test in many areas are actually dropping.
Only in three local authority areas - Torfaen (from 53% to 53.8%), Wrexham (from 49.7% to 50.7%) and Conwy (from 54.3% to 54.4%) - have numbers taking the test increased.
Between 2015/16 and 2016/17, there were drops in numbers taking it in areas including Gwynedd (57% to 53.9%) and Flintshire (54.9% to 53.5%).
The areas with the lowest numbers were Merthyr Tydfil (49.6%) and Cardiff (49.9%).
Bowel Cancer UK's Welsh head Lowri Griffiths urged people not to ignore testing.
"It's quite simple, bowel screening saves lives," she said.
"I would encourage everyone who's over 60 to take the test, and for those who are younger to encourage their loved ones over 60 to complete it.
"It could save yours or your loved ones life."
The test, sent in the post, gives step-by-step instructions, including looking for blood when going to the toilet which is an early bowel cancer sign.
Others symptoms include a persistent and unexplained change in bowel habit, unexplained weight loss or a pain or lump in your tummy.
It is easily treatable and curable if diagnosed early but survival chances drop significantly as it develops.
Public Health Wales also made an appeal for more people to take them while Bowel Screening Wales plans to bring in a new test in 2019 and plans to expand it to all people over 50.
Mr Lewis, who thanked doctors at Cardiff's Velindre Hospital for giving him a "second chance" at life, said international statistics meant it made sense to screen everyone over 50.
"Hopefully people take advantage. The majority caught at stage one or two survive beyond five years," he added.