His Dark Materials: More skills to put Wales on movie map call
By Huw Thomas
BBC Wales arts and media correspondent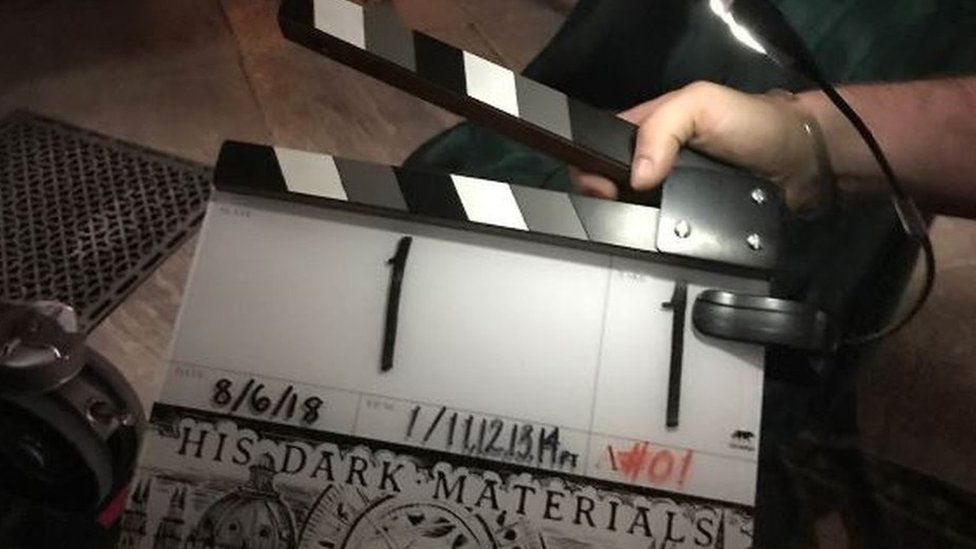 Wales needs to invest in training if it wants to be a centre of excellence for television and movie-making in Europe, the company behind filming Philip Pullman's His Dark Materials has said.
Jane Tranter, head of Bad Wolf in Cardiff, said public investment was needed to make the sector sustainable.
Bad Wolf is filming the TV adaptation of the fantasy trilogy, which will star James McAvoy and Anne-Marie Duff.
The Welsh Government said it had funded training and was improving it further.
With the help of a Welsh Government loan, Tranter established Bad Wolf in 2015 with business partner Julie Gardner, who had executive-produced the 2005 revival of Doctor Who for BBC Cymru Wales. Ms Tranter was the BBC's drama commissioner at the time.
Bad Wolf, which has a studio in Splott, has already delivered one series of A Discovery of Witches for Sky, and has just started shooting the TV adaptation of the His Dark Materials trilogy.
The series is one of the largest to be produced anywhere in the UK this year and will be broadcast on BBC One.
Ms Tranter said: "I think that what the government has done with creative industries has been absolutely brilliant.
"[But] if the ultimate aim is to have Wales as the centre of excellence in the United Kingdom, if not in Europe, for television and film production then we need to move on to the next step."
She said it would involve "encouraging people to think that they can work 52 weeks a year" without having to leave Wales.
"In order to do that you need to grow that bedrock of the production community in Wales.
"So if I was to ask the government to do one thing, it would be to look at growing from the bottom, up...Yes, the government need to put money into that grassroots growth, for sure."
Economy secretary, Ken Skates, said over the last five years the Welsh Government had funded initiatives to develop TV and film skills.
He added demand for Welsh production teams was at an all-time high.
"To meet this demand, we are tasking Creative Wales, the government agency we are establishing to champion and drive further growth in [the] sector, with reviewing and improving the provision of skills and training in the film and TV sector in Wales at all levels," he said.