Final plans drawn up for £100m Swansea city revamp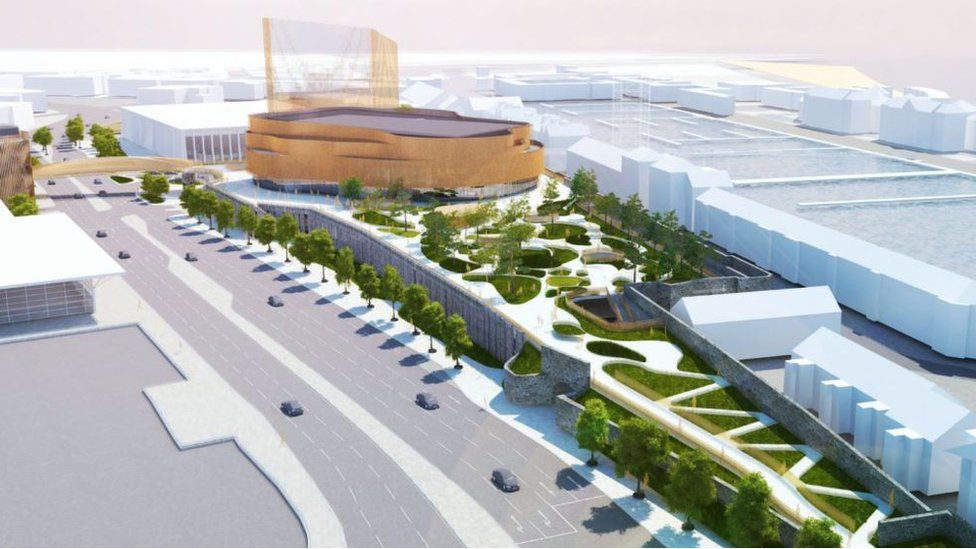 Final plans for the first phase of Swansea city centre's regeneration which would create hundreds of jobs have been submitted.
A 3,500-seater arena is the main part of the phase costing £100m and will be surrounded by a "coastal park".
A hotel and underground parking completes that side of the development while a digital bridge will link to the other side of Oystermouth Road.
Planners will make a decision in October.
A block containing commercial and residential units on the St David's car park site has been included in the scheme which already has outline planning permission.
The council would have to borrow some of the money for the development.
Leader Rob Stewart said every large scheme has "some risk" but the project is expected to boost the city centre economy by £40m per year and create hundreds of jobs.
"Unless we have investment, Swansea will continue to decline," he said. "We simply cannot allow that to happen. If we were not doing this, what future would we have?"
The plans seek to create a "high quality leisure-led destination" that reflects "the pedestrian character of the old town, dealing sympathetically with its historical context".
The arena will be the first development to be built with a target completion date of 2020.
The St David's site would be finished two years later.
"We want Swansea to become a major destination for tours, acts, conferences and events, which will boost our city centre economy by more than £40m per year and create hundreds of new local jobs," Mr Stewart added.
"Swansea Central phase one will be a world-class development, creating jobs, boosting the economy of Swansea and delivering a one-of-a-kind arena with aspects not seen in the UK before."
Another phase of the regeneration could also include a "city beach" area with aquarium and science centre on land currently occupied by the city's civic centre.
The whole project is expected to cost about £500m.