David Hasselhoff marries Welsh girlfriend in Italy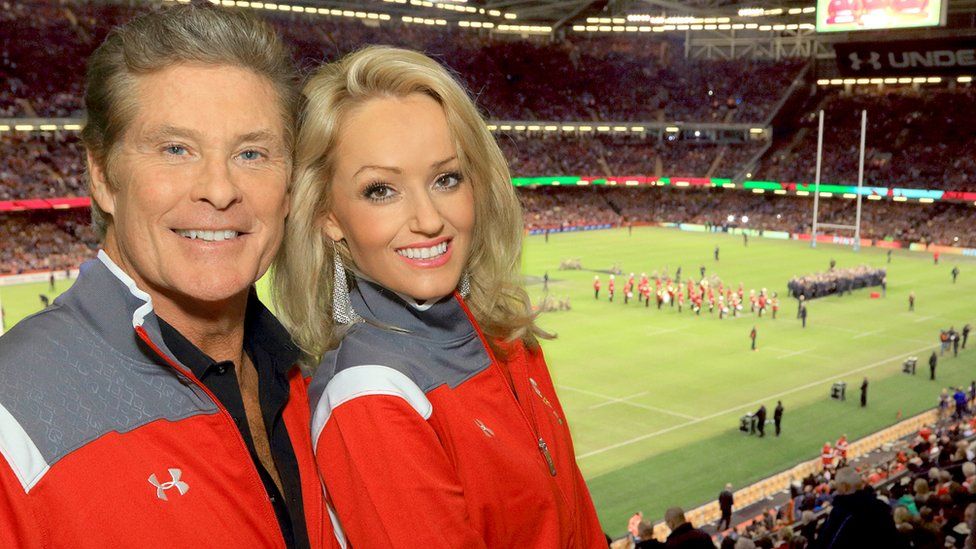 Former Baywatch star David Hasselhoff has married his Welsh girlfriend Hayley Roberts at a ceremony in Italy.
Hasselhoff, 66, and Ms Roberts, 38, wed on Tuesday in a ceremony attended by close friends and family, the actor's spokesman confirmed.
The couple met in 2011 when Ms Roberts asked the then Britain's Got Talent judge for his autograph in Cardiff.
The Hoff requested her phone number and started dating the sales assistant from Glynneath, Neath Port Talbot.
The ceremony took place in the Puglia region in the south of Italy and it has been reported Hasselhoff flew his daughters Taylor, 28, and Hayley, 25, to what he described as "a very small wedding with family from Wales".
Hasselhoff, who has been married twice before and has two grown-up children, proposed to Ms Roberts with a picnic on the beach at Malibu in Los Angeles two years ago.
The couple met in the foyer of a hotel in Cardiff while Hasselhoff was appearing in the city as a judge on Britain's Got Talent.
She asked for a photo and the former Knight Rider star asked for her number.
"There's the girl I imagined in my head that I want to spend my time with, my life with," he recalled after first seeing her.
Speaking about the age gap between them, Ms Roberts previously said: "I don't want to miss out on being with someone I love because of what might happen down the line."
1952: Born on 17 July in Baltimore
1982: Stars as Michael Knight in Knight Rider
1989: Began his role as Mitch Buchannon in Baywatch
1989: Launches music career and has number 1 hit in Germany with Looking for Freedom. Performs single at Berlin Wall on New Year's Eve
1996: Awarded star on Hollywood Walk of Fame
2004: Starred in Dodgeball and The SpongeBob SquarePants movie
2010: Stars with daughters in reality series The Hasselhoffs