Mold's Bailey Hill restoration to begin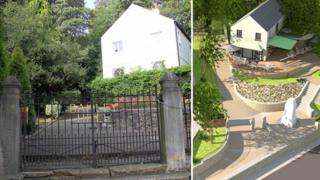 It was once the home of lords and princes, the pride of a market town where Victorians would promenade.
But over the years Bailey Hill in Mold, Flintshire, has fallen into decline.
Now, after a 10-year campaign, live events could soon be staged at the site where a Norman castle was built in about 1100.
A £963,700 grant has been secured so work on a masterplan, including an open air performance area, can start.
The National Lottery money will also allow access to be improved over the next two years, along with new features and interpretation to explain the significance of the protected ancient monument.
Mold councillor Andrea Mearns said the grant was "fantastic" as it meant work could start to bring the hill back into regular use by the public.
She explained how it was once a place where Victorians would "promenade" and it was a popular location for field trips by school children learning about local history.
But its fortunes shifted after changing hands several times, despite being bought by public subscription.
The castle was originally built by Robert de Mont Haut or Montalt, which refers to a high hill, with records showing that changed to Mohault and Moald in 1284, with today's spelling of Mold being recorded in 1561.
It changed hands a number of times between Welsh princes and the Normans, and the last Montalt died in 1329.
The lordship and manor of Mold, including Bailey Hill, also passed through various hands until 1809 when it was purchased by Sir Thomas Mostyn, who planted the trees which surround the site today.
He also built a cottage at the entrance and enclosed the site with a wall.
The building at the entrance has never been open to the public and it is to become a community feature as part of the redevelopment.
Ms Mearns said £1.3m had so far been raised to push the plans forward, but more money would be needed to complete the restoration, including about £120,000 to create a path with a gradual incline to access the top of the site.
In 1870, Lord Mostyn sold Bailey Hill and it came under the control of the local council.
In 1920, Mold Urban District Council turned it into a public park, with the outer bailey used as tennis courts and the inner bailey used as a bowling green until 2002.
Today it is owned by Flintshire County Council, but Mold Town Council and the Friends of Bailey Hill are also jointly involved in developing its future.
They will be looking for extra volunteers "ready and willing to give a few hours" to help with site work such as gardening, as well as leading guided walks, according to leader Eira Hughes.