'Disgraceful' vandals target Great Orme with graffiti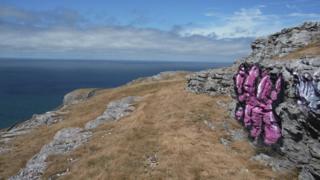 Vandals have daubed bright pink paint on rocks in a conservation area, destroying rare vegetation.
Police are appealing for information after the garish spray paint was plastered on a rock face at the Great Orme, near Llandudno in Conwy.
Rare lichens and other wild plants have been destroyed, police said.
The area, a Site of Special Scientific Interest, is also where the Royal Welsh regimental goat is selected from the wild Kashmiri breed that live there.
"Someone thinks they are being clever but they have destroyed rare lichens and other wild plants," North Wales Police Rural Crime Team tweeted.
"Disgraceful actions damaging a highly protected area."
A Conwy Council park warden said it was a "shame" some people lack respect for the natural habitat.
"I was shocked when a member of the public spotted this and brought it to our attention," the warden said.
"As well as the blot on the landscape, the scarce Hoary Rockrose has its major British stronghold on the Great Orme and here it is spray painted along with wild thyme, ferns and lichens and other plants.
"It's a shame when so many people come to enjoy this beautiful landscape and yet some have no respect for it."