Wrexham parking signs to be replaced after Welsh errors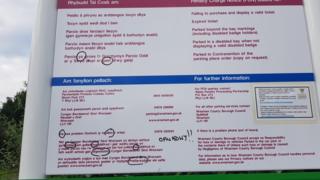 Parking signs in Wrexham which cost £7,000 will be replaced after Welsh translation errors were pointed out.
A member of the public highlighted issues with wording on a sign at Alyn Waters Country Park in Gwersyllt.
Several words were circled with a black marker pen, while 'ofnadwy' - the Welsh word for awful - was scribbled inches away.
A Wrexham council spokesman said the new signs will have correct translations.
The errors were shared on Twitter by Neil Wyn Jones who spotted the corrections.
He added in another Twitter post: "It's hard to believe that signs with such obvious mistakes get to the point of manufacture let alone fitting".
A Wrexham Council spokesperson said: "We are aware of the issue and will be replacing the signs with a version containing the correct Welsh translation".