Tour de France: Geraint Thomas inspires girl's Ventoux climb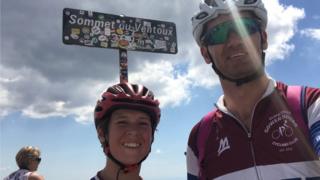 Geraint Thomas's Tour de France win inspired a 10-year-old girl to cycle up one of the course's most fearsome mountains.
Phil Walton, 38, and his daughter Kitty cycled up Mont Ventoux while on holiday in the south of France.
The 14 mile (22km) climb to the summit of the 1,912 m (6,273 ft) peak took the pair about three hours on hired bikes.
The Swansea schoolgirl was also tweeted by Thomas, who called her achievement "amazing".
"Ventoux was really hard to climb up, it was really steep - it felt really nice to get to the top because not many people could do that," said Kitty, who has been a member of Gower Riders since she was six.
Mr Walton said not only did the pair have to battle gradients approaching nearly 12% in parts, but the temperature was about 32C (90F) when they rode on Thursday.
"I was in awe of Kitty - it was awesome," he added.
Mr Walton, his wife Rhiannon, Kitty and sister Livia, seven, are on holiday in France.
He said when Kitty learned they were not too far from Ventoux, "her eyes lit up and she said: 'I'd love to do that'."
After completing the ride, Kitty tweeted a video to Tour champion Thomas who replied: "That's amazing!! Great job and thanks for the support."
"It was really nice to hear from him," said Kitty.
After all of Kitty's hard work and effort, Mr Walton said Friday was spent relaxing by the pool as the pair enjoyed putting their feet up and eating ice cream.