Harry Kane fiver: Is it legal to draw on money?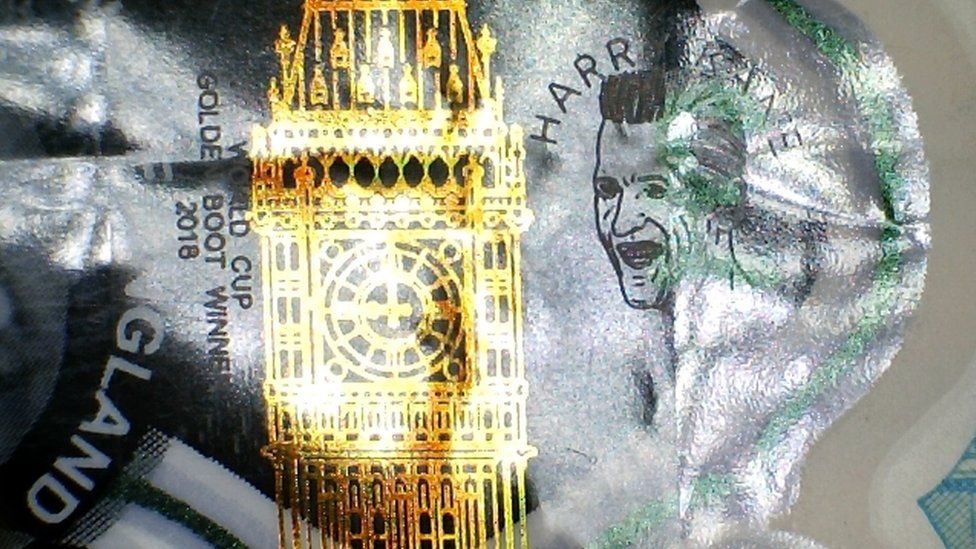 A fiver with an engraving of footballer Harry Kane has been valued at £50,000 - but don't be tempted to create your own art on a banknote because it could cost you up to £200.
Six £5 notes with the image of the England striker have been created and released into circulation by micro-engraver Graham Short.
One was spent in a Merthyr Tydfil shop.
But budding artists be warned, unless you get the right permissions you could face a fine for defacing a banknote.
It is illegal to deface banknotes by printing, writing or adding words, letters or figures.
It is up to the police and courts whether or not to prosecute.
The same rules apply to coins; the 1971 Coinage Act says that no-one without authority can melt down or break up any metal coin.
But, it is not illegal to destroy money by tearing it or burning it.
"With the Jane Austen notes, I contacted the Bank of England and told them what I was going to do, and straight away they said since the 1928 Bank Act, you can't deface currency," he said.
"I thought about that, and I decided that I really wanted to do it, so I called them back, and I spoke to a different person.
"They said 'we've been talking about you here.'
"[They] were encouraging me to do it and were quite relaxed about it."
Mr Short, who has also created a portrait of the Queen on a pinhead in 2016, uses very fine needles to scratch the images into clear sections of the notes.
They remain legal tender, so it is up to sharp-eyed customers or shopkeepers to see if they have one.