Railway improvements needed in Wrexham say economic group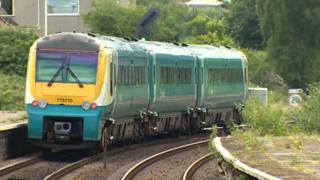 More needs to be done to improve railways in north Wales despite a Welsh Government investment of £500,000, according to an economic group.
Transport for Wales is being given the funds to develop rail projects, and it will be put towards upgrading the Wrexham North Junction.
The Welsh Government hopes it will improve journey times and increase the frequency of services.
But the North Wales Economic Ambition Board says even more needs to be done.
The investment will also go towards signalling improvements, as well as level crossings in the area.
A spokesman for North Wales Economic Ambition Board (NWEAB) said the group welcomed the investment, which builds on the Welsh Government funded project to redouble the train line between Saltney Junction and Rossett which was completed in 2015.
"Better, faster and more frequent rail services to key destinations are part of the ambitious programme we have campaigned for," he said.
"In order for Wrexham to benefit from increased rail service frequencies, improvements such as [this] are essential.
"Even after this announcement, more needs to be done; line speeds across the region can be low, and there are capacity constraints in places that prevent additional services being run."
Transport Secretary Ken Skates said it was "delivering a boost to the local economy, stimulating new growth opportunities and building a stronger transport network in the region".
"It is our clear ambition to see improvements for the benefit of rail users and this funding will ascertain what can be delivered for that exact purpose.
"Welsh Government investment is improving transport infrastructure in north Wales and comes on the back of my recent announcement of the development of a new Transport and Business Hub to totally regenerate the area around Wrexham General Station.
A spokeswoman for the Welsh Government added: "We are pleased the North Wales Economic Ambition Board support our work to seek UK Government investment in the north Wales rail network where they have the responsibility for enhancing infrastructure and where this will help us further increase capacity and services in the region."