Pupils' university access success 'depends on school'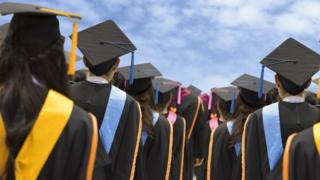 There are significant differences between schools as to whether pupils with the same grades go to university, researchers have found.
The variations remained even when the researchers factored in whether pupils were from a poorer background or the school was in a disadvantaged area.
Cardiff University found in some cases the differences were "enormous".
The Welsh Government said it was creating a culture that supported high aspirations for learners and schools.
The study by the university's Wales Institute of Social and Economic Research, Data and Methods (WISERD) followed the paths of three sets of Welsh 15 to 16-year-olds between 2005 and 2007.
Of 195 secondary schools, there were about 46 schools where the odds of young people participating in higher education were 35% greater than the average, and 35 schools where the odds were 35% lower.
The study also found that for some schools the odds of pupils going to university were as much as 250% higher than average, while at other schools it was 80% below average.
A-level and GCSE scores were the biggest determinant of whether a pupil went on to university or not, but analysis of the data suggested the school also had a big effect.
Those differences did not appear to be linked to the overall "quality" of the school.
The research also found that students from some schools were far less likely to go to "elite" universities despite achieving the same grades.
Lead researcher Prof Chris Taylor said: "We were really surprised that in some schools you were somewhere nearly three-and-a-half times more likely to go to university with the same A-level grades [and] GCSE scores as somebody else, with similar circumstances as somebody else. The differences were enormous."
He said schools having a "culture of expectation" and allocating resources to raising aspirations and giving practical help with the university application process could make a difference.
He said it was about "getting schools to [take] it more seriously in terms of the tracking and the progress of those students".
"It's not so much whether somebody should go to university or not, it's about making sure that everybody in Wales has an opportunity to make an informed decision about what university is about and whether they should go or not," he added.
A Welsh Government spokeswoman said it wanted every pupil to know that if they worked hard then "no academic opportunity is off-limits".
"We're creating a culture that supports high aspirations for all learners, teachers and schools, and helps us deliver our national mission for education."