Warning Snowdon summit 'covered in human ashes'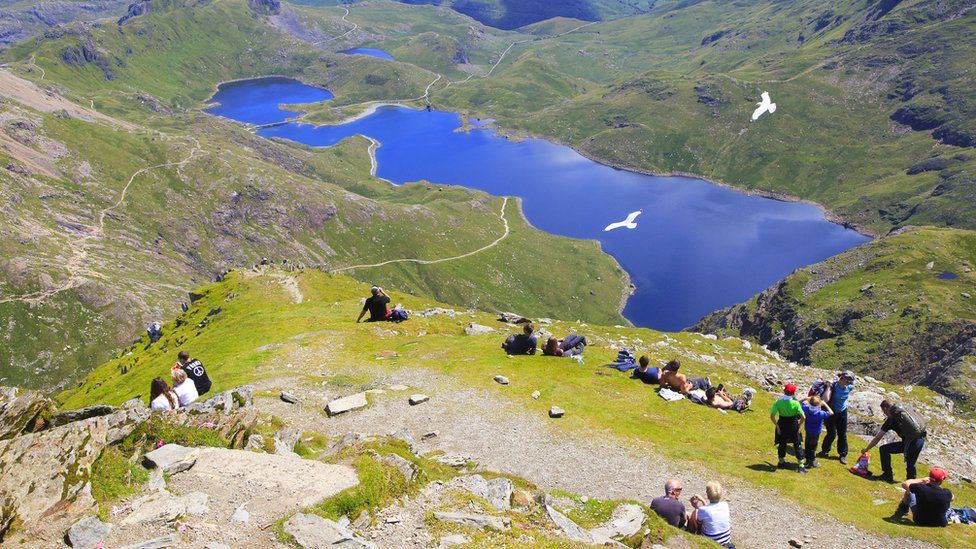 For many the summit of Snowdon is a fitting final resting place for loved ones, but mourning families are being urged not to scatter ashes on the mountain.
Despite being Wales' highest peak, the sheer volume of ashes is said to be damaging the area's natural ecosystem.
The Snowdonia National Park Authority (SNPA) says there are days the summit is "literally covered in ashes".
There are concerns plants and flora in the area will be changed forever.
More than half a million people climb Snowdon every year and the national park authority receives requests to allow ashes to be spread on a "weekly basis".
SNPA access officer Paul Rutherford admits they are powerless to prevent the practice but is asking families to find alternatives for the sake of the environment, as well as other climbers.
"It's a sensitive issue dealing with families who are grieving and whose relatives may have had a dying wish to have their ashes spread on Snowdon. But we have to say no for a number of reasons.
"Geographically the Snowdon summit is only half an acre and with so many people depositing ashes in such a small area, we would ask them to refrain because it is beginning to effect the soil profile.
"On top of this we have the social aspect. We have a lot of people on the summit who are there to have a good time and enjoy the view. But if you go on some days, the summit is literally covered in ashes.
"We are not in a position to prevent them because it's a public place, but we would ask people to show restraint and find an alternative."
Why are human ashes a problem?
The remains can affect the soil's chemistry and encourage the growth of mosses and grasses at high altitude, rather than the natural flora.
"We have a low-acidic soil background and adding all this calcareous material is problematic for the local ecology," Mr Rutherford added.
"The material is more lime rich and will eventually leach into the substrate of the soil and start changing the vegetation.
"We're worried that in the long term, the more ashes that are left, the plants and flora will certainly change over time."
What is the authority encouraging instead?
Notices in the mountain visitor centre have not prevented the problem worsening, though the SNPA have even taken to posting rocks to mourners as an alternative to spreading ashes on Snowdon.
"People usually understand when we explain. I've even sent stones and rocks from Snowdon to services in other places rather than people coming to us," said Mr Rutherford.
"There are lot of things families can do [instead]. They can donate a tree, or donate to a charity or the mountain rescue. We just ask them to seriously consider what they are going to do."