A-levels: More improvement at top grades in Wales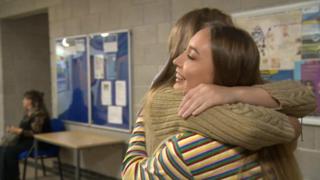 There has been a further improvement in Welsh students' performance at the top grades at A-level.
Performances for the top grades are the best since 2009 - with 26.3% getting A* and A grades.
Results show 8.7% of grades awarded were A* - the highest since the grade was introduced in 2010.
These are the first results for 10 subjects under reformed A-levels in Wales, following on from changes in 13 subjects last year.
It means that performance at A* to A in Wales - an improvement of 1.3% - is now virtually in line with the overall UK figure, after lagging behind over several years.
Wales is also outperforming the rest of the UK at A* by 0.7%.
The overall A* to E pass rate was 97.4%, slightly down on last year's figure.
Education Secretary Kirsty Williams said she was very pleased to see that the results at the very top grades were at an historic high.
"We're seeing a very positive and stable set of results, with some very encouraging signs of progress as we continue on our journey of education reform," she added.
Boys also continued to outperform girls at both grades A and A*, although girls are ahead of boys at grade C, by 5.4%.
The number of A-level entries in Wales has continued to fall, dropping 5.3% to 33,640, compared with 35,525 in 2017.
A decrease in the size of the 17 to 18-year-old population is an important reason for the dip in entries, according to exams regulator Qualifications Wales.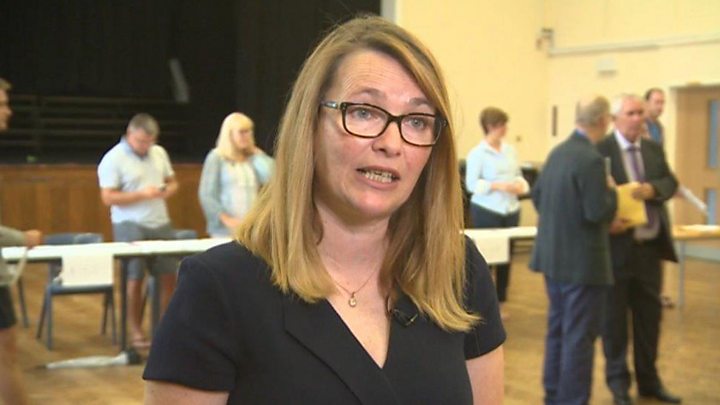 Advanced post-16 Welsh Bacc results have also been published, with 97.7% awarded the advanced skills challenge certificate - an increase of 3.7%, with 21.5% getting A* and A grades.
"These are all very good reasons why we should remain confident in our reformed system of qualifications," said Ms Williams. "We are providing students with the skills and knowledge they need for the modern world and our challenge now is to build on the results as we continue our national mission to raise standards for all our young people."
She also praised the performance in science and technology subjects, with biology, chemistry, physics and design and technology seeing an improvement in the very top grades.
Plaid Cymru education spokesman Llyr Gruffydd congratulated students and teachers on brilliant results under "ever-worsening conditions and ever-increasing pressures".
He said the education sector was "crying out for a fair funding deal" from the Welsh Government to ensure that the issues did not translate into poorer results in the future.
This was echoed by the National Association of Head Teachers in Wales, which said students deserved great credit in a "radically different landscape". It called for a long term funding strategy.
Rob Williams, policy director, added: "Post-16 education has faced some of the most severe funding issues and yet, as always, school leaders, teachers and support staff have displayed full commitment to their students, which has resulted in some pleasing overall outcomes."
Conservative education spokesman Darren Millar welcomed the performance at the top grades.
"However, I remain deeply concerned with the ongoing issues facing Welsh schools including teacher recruitment, teaching quality and Wales' consistently poor position in international education league tables," he added.
Analysis from Bethan Lewis, BBC Wales education correspondent
It's a time of flux for qualifications but the education secretary says she's pleased to see stability overall.
That's important because at a time of reform to A-levels, big variations in results would raise alarm bells and questions about whether students have been disadvantaged.
Improvements in performance at the highest grades will also be welcomed. This time they are in line with the UK figure and at A* Wales' results are better than all the English regions apart from London and the south east.
With population changes seen as the major reason, Qualifications Wales is doing more work on why entry levels have fallen, particularly for AS levels which are taken after a year.
In Wales, they still count 40% towards an A-level, but in England they have dropped that link and there has been a much more dramatic fall in entries.
What happened in the year since my A-levels?
What next for students?
A third of all 18-year-olds in Wales are hoping to get on a university course this summer and admissions service Ucas expects around three quarters will be accepted at their first choice universities.
Clare Marchant, Ucas chief executive, said: "If your grades end up being different from what you expected, it's important not to jump into making a decision."
She added: "Make the right choice for you. It can help to talk your thoughts through with family, friends, a teacher, or careers adviser.
"If you decide to look for courses in clearing, there are fewer 18-year-olds in the UK's population, so there's never been a better time to search for opportunities."
This summer will see the first year of Welsh undergraduates operating under the a new system for student finance, first proposed in 2016:
Students will take out a loan to cover tuition fees but be eligible for grants towards living costs
All students from Wales will receive £1,000, before a mean-tested grant
This could see those from an average income family receiving £7,000 a year towards the cost of living
CLEARING DETAILS