Roath Park's rare Chinese tree flowers in heatwave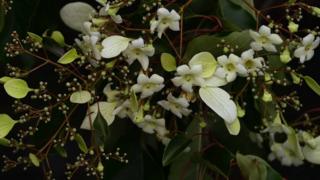 A rare Chinese tree in Cardiff has flowered for the first time since it was planted more than 100 years ago.
The creamy-white flowers on Roath Park's Emmenopterys henryi are thought to be the result of a cold winter followed by heatwave conditions.
Botanist Ernest Wilson introduced the species to Europe in 1907, with the first known flowering in Italy in 1971.
The deciduous tree has grown to be a champion- the biggest or best of its kind in the UK.
It is thought to have been planted in the early 20th Century.
Community park ranger Gareth Stamp said: "This really is something special to see.
"I must have walked past this tree a million times but I never expected to see it in flower - and who knows, it happens so rarely, maybe I never will again."