Christchurch View car park closed after human excrement found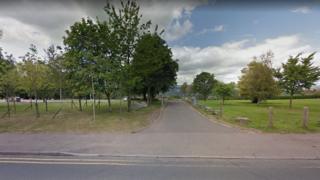 A car park at a popular beauty spot has been closed while council officers clean away human excrement.
Newport City Council said it would prevent access to the car park at Christchurch Viewpoint to avert a "potential health hazard".
The discovery was made after a group of travellers who had occupied the car park had left, the council said.
The group had "smashed" through a locked barrier to gain entry, the authority had previously said.
"It has now come to our attention that members of the public and their pet dogs have discovered areas of the site that have been used as a toilet and as a result a chemical cleanse of the area will have to be undertaken," a council spokesperson said.
"This will be carried out as soon as possible as an external cleansing company will have to be brought in to do the work."
The council apologised for the inconvenience and said the car park will be open on Monday.