Calls for developer to finish Glasdir Estate in Ruthin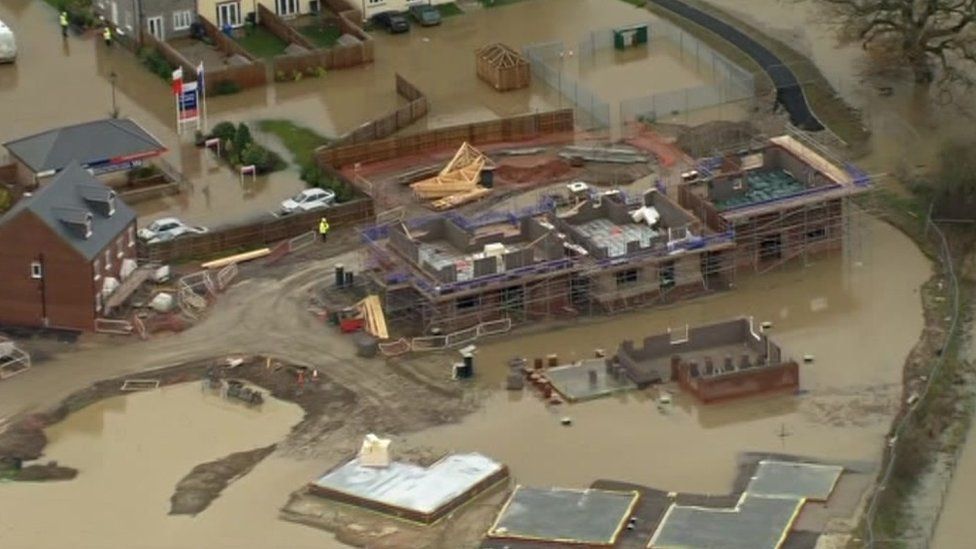 A property developer should honour its "commitment" to resume work on a site almost six years after it was abandoned due to flooding, councillors have said.
Work to complete the Glasdir Estate in Ruthin, Denbighshire, was delayed in 2012 after 120 new homes were damaged.
Property developer Taylor Wimpey is waiting for planning approval which would allow work to continue.
Taylor Wimpey, which was accused of abandoning the site, has been asked to comment.
Councillors are confident the second phase of the development can begin one planning permission is granted.
The development would see work start on 42 additional homes on the estate near Denbigh Road by the end of the year.
"It appears now that Taylor Wimpey are willing to proceed with the next phase of the development," said Emrys Wynne, councillor for Ruthin on Denbighshire county council.
Blocked culverts on the estate were blamed for the floods in 2012, when the River Clwyd overwhelmed defences that were supposed to protect the estate.
Mr Wynne said the flooding had created a "standstill" as insurance companies and the planning authority questioned whether the area would flood again.
"There have been no floods since. There are developments around the whole estate to make sure that it is very unlikely to happen again," he added.
Taylor Wimpey are expected to be granted planning permission to continue, and Huw Hilditch Roberts, also county councillor for Ruthin, called on the developer to start work as soon as it is.
"The flooding was a nightmare for all the residents and it had an effect on Ruthin in general," he said.
"We are in a situation now where if we can enable building, we have a site which will be a credit to Ruthin when we have finished.
"But we are not there yet and we want Taylor Wimpey to follow through with that commitment to get it done and it is really pleasing that they are looking at the planning at the moment."