Suspended councillor said gay people 'unnatural and wrong'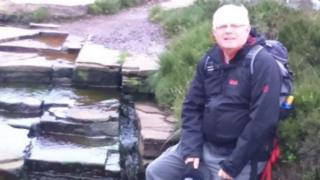 A councillor has been suspended for describing homosexuality as "unnatural, perverted, immoral and wrong".
Former Monmouthshire county councillor Graham Down also made a comparison between homosexuality and paedophilia, according to an adjudication panel.
Mr Down, who is now a Mathern Community Councillor, said the comments, sent in emails, were "private".
The Adjudication Panel for Wales said the messages breached a conduct code.
The watchdog said Mr Down's emails to Monmouthshire council chief executive Paul Matthews "failed to show respect and consideration for others".
It added that they breached a code he signed up to when he was elected as a county councillor in 2012.
Mr Matthews referred Mr Down's emails to the Public Service Ombudsman who concluded the complaint was justified.
The matter was then passed to the Independent Adjudication Panel for Wales which determined the code of conduct had been broken - and suspended Mr Down from Mathern council, near Chepstow, for two months.
The panel's decision report said Mr Down, who was an independent Monmouthshire councillor for the Shirenewton ward until May 2017, was "offended that the council was promoting homosexuality and he argued that the council had no duty to do so'.
'An immoral perversion'
In an email dated 12 February 2016, Mr Down said: "I am, and have been, always quite open that I agree with the teachings of just about every major world religion in that homosexuality is an immoral perversion to be condemned, not promoted".
The email continued: "Indeed as a matter of straightforward logic I do not understand why a homosexual act is apparently acceptable but not a paedophile act. Both are unnatural and I struggle to see a difference of substance".
In a separate email on 1 October 2016, Mr Down said: "I believe homosexuality, transgenderism, etc are immoral perversions. I do not accept the activities as being "normal" in any way".
The decision report stated Mr Down was challenged on this comment by Mr Matthews but he did not retract his remarks.
It said he made a "deliberate and gratuitous challenge to the inclusive ethos of the council, taking no account of equality principles, let alone the public sector equality duty".
The panel found two other comments made by Mr Down "disrespectful" and "despite being likely to be offensive to some, did not justify the restriction of his freedom to expression, and did not breach the code of conduct".
In an email dated 12 February 2016, referencing the flying of the "rainbow flag", an international symbol of LGBT rights, he said "there seems to be some ridiculous multi-coloured rag flying from the flagpoles outside county hall".
On 1 October 2016, Mr Down said "I see that MCC apparently had yet another LBGTQIYGVGI conference yesterday, although there's still no sign of a similar conference for normal people".
Then on 13 October 2016, he said: "Perhaps you would also be kind enough to let me know the difference in principle between flying the striped flag outside county hall, even though that may offend some, and erecting a banner saying something like "homosexuality is perverted," which may offend others."
'Breach of natural justice'
The report concluded Mr Down "could not and would not recant" his comments.
"He felt that the whole episode was bizarre and a breach of natural justice," the report said.
Mr Down also stated that no-one had been offended by the emails and the chief executive had not been offended personally.
It was also acknowledged that there was not an example of poor treatment to anyone by Mr Down.
Mr Down felt he was being expected to give up his faith and "would not do so".
The tribunal concluded unanimously that Mr Down should be suspended from acting as a member of Mathern Community Council for a period of two months and seek code of conduct and equalities training through Monmouthshire and Mathern councils.
The BBC has contacted Mr Down for comment.