'How powerlifting saved my life'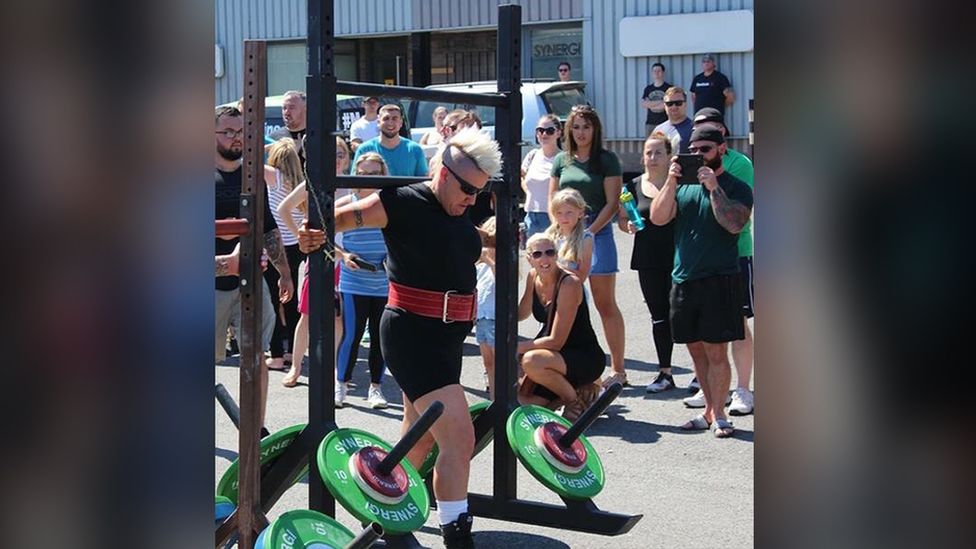 When Sam Taylor first stepped in a gym, she never imagined the path it would take her down.
The 40-year old from Cardiff wanted to get fit after suffering from depression in 2015.
But little did she know it would lead to her becoming a competitive powerlifter.
"I had been in an abusive relationship for four years and had finally escaped and moved out," she said.
"After an unsuccessful attempt on my own life, I somehow promised myself I would sort myself out."
Sam decided to join Peak Physique Gym in Cardiff, initially going at night so no-one would see her.
"More than once, I walked through the front door, lost my confidence and walked straight out," she said.
"My target was to go every day, and although I didn't achieve this, it still gave me a reason to get into a routine and leave the house.
"At first I had no idea what to do. I would simply copy what others were doing, lifting weights inside my comfort zone."
That is when she came across Mike Williams, a holder of four Welsh powerlifting records.
He encouraged her to enter a powerlifting competition - and although she was initially reluctant, she won it.
Ms Taylor then entered into Strongwoman competitions - which involved an array of activities, such as pulling vehicles by a rope, lifting Atlas stones and flipping tyres.
"I felt calmer and enjoyed having a purpose in life and long-term goals to aim for.
"The gym became my sanctuary, helping me beat my depression, and I met a new circle of friends, moving far away from the person I used to be."
She now runs her own personal training business in Cardiff designed to help others who are going through tough times.
"Lots of people won't go to the gym because they feel it is male-orientated and intimidating.
"No one needs to end up in Strongwoman competitions as I have, but whether it is domestic abuse, depression or anxiety, there is no doubt that exercise can help.
"Undoubtedly it saved me."
The same is true for 50-year-old Sue Franklin, from Barry.
The mother-of-one initially joined the gym to lose weight after feeling "ashamed" to go out locally.
"Growing up, I always struggled with my weight, but by the autumn of 2014, things were out of control," she said.
"I weighed nearly 19 stone, was bordering on diabetes and was incredibly unhappy, suffering from chest pains with zero confidence."
However, in April 2014 her best friend died, leaving her "devastated".
Feeling "dreadfully unhappy" a friend encouraged her to join a gym.
Ms Franklin managed to lose four and a half stone in six months, largely she says "by cutting junk food and alcohol".
"Swiftly I found it very addictive - not only because of the physical changes I felt, but also the mental ones," she recalled.
"Within a few weeks, I felt my depression lifting and my confidence returning."
She now holds eight Welsh records in the over 50 category and will attempt a deadlift world record of 180kg (28st 5lb) in October.