Fan y Big mountain in Brecon Beacons downgraded to hill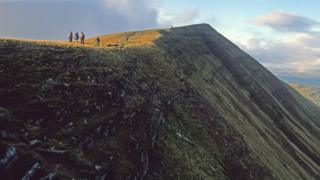 A mountain in the Brecon Beacons has been downgraded to a hill after it missed a mark by just 4.9ft (1.5m).
Fan y Big has been taken off the Hewitts list, which records mountains in England, Wales or Ireland over 2,000ft (609.6m) high.
It is over 2,000ft tall and high enough to be classed as a mountain.
But mountains must also have a minimum drop between the summit and the col - the lowest point on a mountain ridge between two peaks - of 98.4ft (30m).
Myrddyn Phillips, 57, from Welshpool, discovered Fan y Big's drop was only 93.5ft (28.5m) when he measured it with satellite-based technology.
He also calculated the summit as being at 2,351ft (716.6m), lower than the previously thought 2,359ft (719m).
Mr Phillips said: "To an extent it is a shame because it is a stunning hill on one of the best ridge walks in the whole of Wales."
The mountain surveyor has been measuring mountains for nearly 20 years as a hobby and said he wanted to measure Fan y Big because it was thought of as a marginal hill.
He uses a satellite receiver which picks up a satellite signal and processes its position against Ordnance Survey base stations.
"The technology is so accurate, it collects hundreds of data points to get a good average," Mr Phillips said. "It's the same sort of technology used by GPS."
Previously mountains heights were recorded by a process called photogrammetry. This involved flying over the top and taking measurements to the land below.
Mr Phillips claimed his technology has a margin of error of just 4in (10cm) compared to the older process which had a margin of up to 9.8ft (3m).
Alan Dawson, the author of the Hewitts list of mountains, said the result of the survey was "expected" and Fan y Big has been removed from the list.
"It was confirmation of what we long suspected," he said. "In this field of study almost two metres is a huge difference."
The Brecon Beacons National Park posted on its Facebook page to say: "It is with great sadness and a heavy heart that we must announce, that through the emergence of new technological data, we have lost one of our Beacons.
"Although, on paper we may have lost a Beacon, we all know at Brecon Beacons National Park that Fan y Big will continue to be a mountain to be climbed, a peak to be reached and a summit worth seeing."