Gwent volunteers catch 100 speeding drivers every month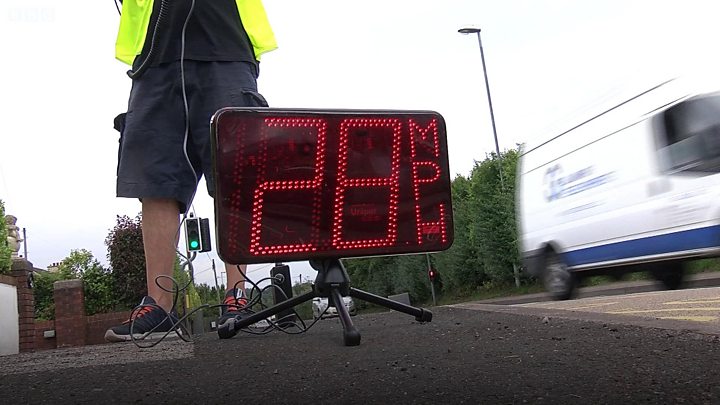 Volunteers are catching more than 100 speeding drivers a month on average in the Gwent Police force area.
As part of the UK-wide Community Speed Watch scheme, trained recruits use a speed gun to monitor sections of road.
Gwent Police handed out 1,526 warnings to motorists caught by local recruits between February 2017 and May 2018.
New volunteer Abbie Rands, 20, said the work is a "personal thing" for her, with two sisters regularly out playing in the village where she lives.
Ms Rands is part of the Speed Watch group in Little Mill, Monmouthshire - one of a growing number across the Gwent area.
Local pastor Colin Berg helped set up the group after a speeding car overturned and smashed down the village church wall.
"We felt something had to happen," he said. "We've caught someone doing 55mph in this 30mph area."
Abbie Rands, 20, is one of the group's newest recruits, having grown up in the village.
"I try to do it about once a week when I can," she said.
"I've got two younger sisters and seeing them out playing with their friends, it's a personal thing. I want to give people a safer village to live in, basically."
According to Mr Berg, local authority data suggests 76% of drivers exceeded the speed limit through the village in 2017.
In 2018, that estimate has dropped to 65%.
"We all know we're living in times of austerity, the police have to make priorities and we understand that," he said.
"We can do something about this, but we can't do something about catching burglars!"
He added that the group is about educating, not penalising - and it is "a good day" if they do not catch anyone.