How Windrush generation in Wales overcame discrimination
By Paul Pigott
BBC News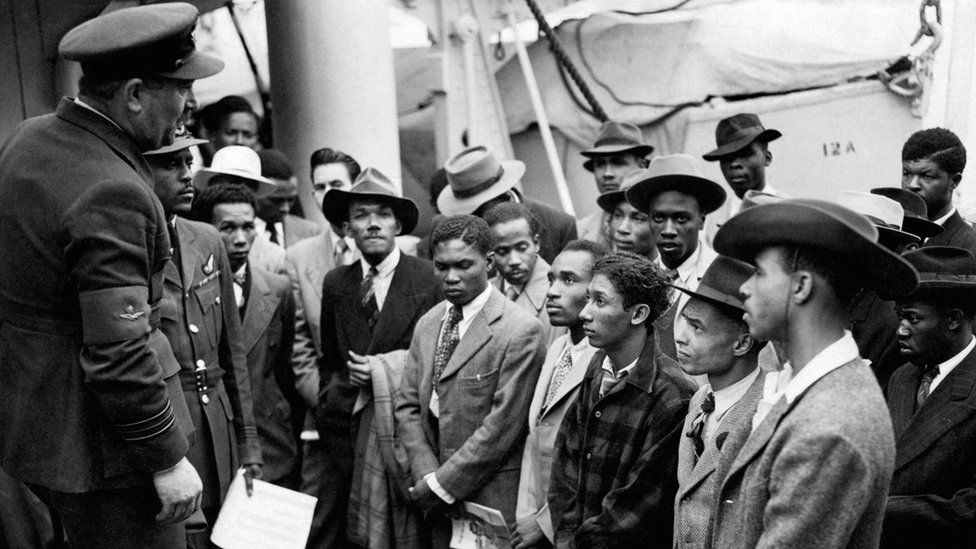 Members of the Windrush generation in Wales have spoken about how they overcame discrimination.
People who settled in Wales in the 1960s were interviewed as part of an 18-month project carried out by the African Community Centre in Swansea.
The aim was to pass the culture, experiences and journeys of members of the Caribbean community on to the younger generation.
Young people heard stories of hardship and racism, but also of huge change.
For second generation Windrush descendants, things are very different.
Elva Headman, 84, came from Jamaica in April 1961
Upon landing in London, Elva Headman went to Bristol to join her parents. She got married in 1964 and came to live in Port Talbot.
"The people in Bristol were friendlier when I came here," she said. "You couldn't get Jamaican food in Port Talbot. Now and again, I would go to Bristol and bring food back and share it with friends."
In Port Talbot, people sometimes refused to serve her in shops. "I had that experience, more than once." There was a small, Caribbean community and the group became very close.
"In those days, things were completely different from what it is now. You are treated a bit better now than when we came here first," she said.
Working as a nurse, she also suffered racism, but she feels things have changed a lot in 44 years in Wales.
"The patients were quite difficult," she said. One man kicked her in the chest, while another told her to take her "black hands" off him.
"I got a lot of experience like that. You just had to let it go, you couldn't answer back.
"But wherever you go you will find good and bad," she said. "Some of the people were very nice.
"That's how it was when we were nursing in the 60s."
Leonard Lawrence, 82, came from Jamaica in 1960
Leonard Lawrence was brought up to think Britain was a modern country, but when he moved to Port Talbot he was "totally surprised" at some of the things he heard.
"One week I was stopped four times by the police, just because I was an ethnic minority, driving," he said.
"Those were the things you got, and you've got to live with them."
He had a variety of jobs, working for the council and Tata Steel among others, but "you had to take what you could get, and sometimes it was very hard".
Renting a house was also difficult; three different families would live in a three-bed house. "It was very hard to get jobs or a council house."
In London, he once had to go to 17 bed and breakfasts before being allowed to stay. "In the morning I just had a wash and left, because what she (the landlady) said was embarrassing."
Going back to Jamaica was not an option. "You decided to make a go of it, and that was why we stayed."
Other people were kind and encouraged him.
"No matter what anybody is going to say, I'm a Jamaican Welshman, I've spent 58 years here and 24 in Jamaica."
The Windrush scandal, which began to be uncovered earlier this year when it emerged that some migrants from Commonwealth countries were being wrongly categorised as illegal immigrants, was "shameful", he said.
The proud father-of-four added: "Things have changed for the younger generation.
"We've had to fight to be treated as equal to anybody else. Now my son and daughter walk down the road and are part of the community."
Sharon Lawrence, 56, from Ystradgynlais, raised in Port Talbot
A second generation Windrush descendant, Leonard Lawrence's daughter Sharon's roots are firmly in Wales, although her heart is in Jamaica.
"I love being Welsh, I love that identity," she said. "When the rugby is on and Wales are doing well, I'm there, but when I hear reggae music, my heart is in Jamaica."
She believes people's attitudes are changing slowly and says for her it has only been positive.
"Wales is multicultural now and I hope that will just become stronger and better," she said.