Further drop in GCSE A* to C passes in Wales
By Bethan Lewis and Steve Duffy
BBC Wales News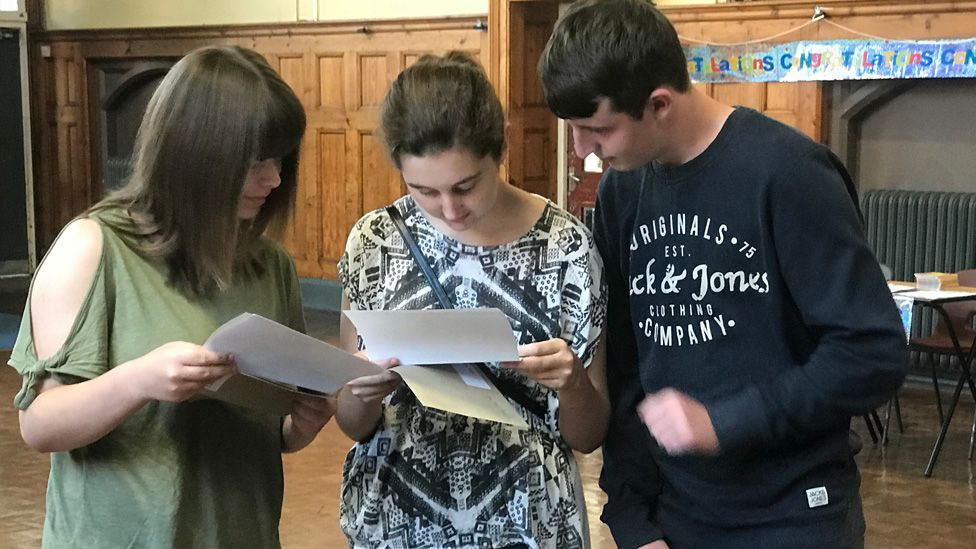 There has been a further drop in the A* to C pass rate at GCSE in Wales.
But the exams regulator has warned that significant changes to the pattern and numbers of pupils sitting exams this summer has had an impact on results.
The results out on Thursday show 61.6% of students achieved good passes compared with 62.8% in 2017.
But the proportion of top A* and A grades awarded was higher than last year at 18.5%.
The proportion with A* to C grades is the lowest since 2005 but Qualifications Wales said it was "relatively stable" and it was not possible to draw "any firm conclusions" from this year's results.
The body representing exam boards, the Joint Council for Qualifications, said the results showed "stability" despite the changes.
Nearly three-quarters of all entries were for reformed GCSE exams, while overall entries were down 13% on last year's figure.
Entry patterns for subjects have also been affected by policy changes which has meant fewer Year 10 students have been entered overall, with English literature the exception.
Pupils received their results for 15 new GCSE exams for the first time, including biology, chemistry and physics, French and German.
Meanwhile for the Welsh Baccalaureate, entries were up and 98% of candidates achieved the national/foundation skills challenge certificate qualification - a rise of 5.1% on 2017.
What's happening with science?
All science qualifications have been changed - there are now six different GCSEs in the sciences.
Biology, chemistry and physics have all been updated as part of the wider reforms to qualifications.
Results in biology and physics at A* to C fell slightly (down 1.7% and 1.5% to 88% and 89.4%) but chemistry remained relatively stable (down 0.3% to 89.5%).
But Education Secretary Kirsty Williams welcomed the increase in science entries and the fact that more students were achieving the very top grades in these subjects.
"This shows the importance that both we and schools attach to this subject and I am confident that together we will continue to go from strength to strength, as we saw with last week's A-Level results," she said.
There is also a new double science - equivalent to two GCSEs - and this counts for far more entries than any other subject - 42,740. But as it is a double award, the actual number of pupils who took the exams is half that number.
The results showed 50.9% students achieved grades A*-C in this new subject.
There are also two new applied science GCSEs, testing students' knowledge of science in a practical context - applied science and applied science (double) which have far fewer entries than the other science subjects.
Meanwhile, there are changes to school performance measures which mean only GCSE science rather than BTEC will count towards a key measure.
This change was made because the education secretary said some schools, particularly in disadvantaged areas, were entering too many pupils for the BTEC. She said it was a symptom of a "culture of lowered expectations".
Entries for the sciences have gone up and Qualifications Wales estimates about 40% of those taking GCSE science subjects this year would previously have taken BTEC. That, they say, could lower the overall results.
Why are entries down in Wales?
The number of entries for GCSEs in Wales this summer are down by 13% from 2017 to 290,640. This is due to a big drop in pupils taking their GCSEs a year early - only 14,290 from year 10 or below.
This was particularly marked in early entries in English - down 96%, and maths and numeracy - down 89%.
Qualifications Wales said this was expected after the Welsh Government changed how school performance measures were calculated. Starting in 2019, only a student's first result for a subject will count towards how a school is rated.
Nearly 90% of pupils sitting their exams are in year 11.
Why is grading different in England to Wales?
The new GCSE grading scheme for England - 1 to 9 - which came in last year was part of new curriculum changes there, which include much less coursework and almost all subjects depending on exams.
There have been changes to exams in Wales too, but the grading has remained the same.
How are boys doing compared to girls?
The gap has again widened in Wales; girls were ahead of boys by 9% at the top A* to C grades in 2017 but it has widened to 9.9%.
Measuring Wales' education performance
GCSEs have been used as a key measure of education standards across Wales.
But it is becoming more difficult to compare results with all the changes both here and elsewhere in the UK.
Qualifications Wales warned that it is difficult to make any meaningful comparisons between this year's GCSE results and those of previous years.
"With the scale and complexity of the changes this year, we'd caution against drawing conclusions based on simplistic comparisons between results from this summer and previous years." said chief executive Philip Blaker.
We can still follow what is happening with individual subjects, but the Welsh Government's chief statistician says it will be the "summer of 2021 at the earliest" before it is safe to make broad comparisons over time.
Kirsty Williams said: "Today's results are, of course, only one part of a picture that will be pieced together in the autumn.
"Early entry has had an impact on some of these results and that's why the final picture will change. You only have to look at previous years where the autumn results have been several percentage points higher than the data published in the summer.
"The early entry impact has been quite significant," said Gareth Evans, director of education policy at University of Wales Trinity St David.
Mr Evans believes it will take a few years for the changes to bed in before comparisons can be made.
"It's very difficult I think for parents and those with a casual interest in qualifications as to what these actually mean and if indeed they are still comparable," he said.
"I would argue GCSEs between Wales and England are no longer comparable and I think it would be wrong of us to draw very sweeping judgements on improved performance or indeed declines in performance."
In such a time of flux, the international Pisa tests are the best marker, the government suggests.
Conservative education spokesman Darren Millar said the drop in A*-C grades was concerning and "indicates others are being left behind as others are pushed to reach their potential".
He added: "In recent years we've seen international league tables rank Wales as the worst schools system in the UK, and there remain ongoing issues in relation to teacher training and education standards."
Plaid Cymru's education spokesman Llyr Gruffydd said it was "disappointing" that the headline statistic was down again.
"The gap between attainment in Wales, England and Northern Ireland is also a striking feature and is still a matter of concern," he said.
"Whilst making annual comparisons are increasingly difficult, one thing is plain to see. It's unrealistic of the Welsh Government to expect improved GCSE performances when school budgets are reducing to breaking point and teachers are being made redundant."
Head teachers warned that the scale of change "continues to be a huge task for an already stretched profession".
Rob Williams, director of NAHT Cymru, added: "In future, everyone, especially pupils, would welcome a longer lead-in time into implementation dates to ensure that schools have adequate time to work with others, gather and prepare curricular resources that match the expectations within new examination specifications."
The NASUWT union said teachers had "pulled out all the stops" against a backdrop of school reorganisation, job losses and funding constraints.
Chris Keates, general secretary, added: "Although the drop in entries for non-core subjects can in part be explained by population decrease, it remains a matter of some concern that this reflects the squeeze on the curriculum in Wales due to the focus on the literacy and numeracy framework."
David Evans, secretary of the National Education Union Cymru, said: "Over the last two years we've seen some major reforms in our qualifications here in Wales, with 21 subjects having more emphasis being placed on the examinations with less assessments and coursework.
"It is therefore difficult to compare these results with previous years. Teachers will already be planning their approach for next year with the aim of matching and improving on these grades."