Fijian school in memory of Cardiff soldier killed in crash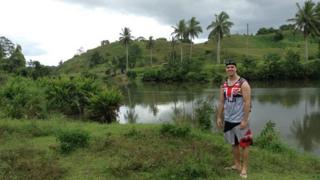 A former soldier who died when he was knocked off his bike will have a school opened in his memory - 10,000 miles away from home in Fiji.
Jack Berry, 26, died during a ride with friends in the Vale of Glamorgan in October 2017.
The former Royal Welsh Regiment soldier lived in Cardiff with his Fijian-born wife Luisa, 29, who said he "absolutely loved" the country.
Thousands of pounds have been raised to fund the school for 30 children.
Farmworker Craig Gough, 36, admitted causing death by dangerous driving, saying he blacked out for 15 seconds behind the wheel.
He described experiencing an "absence of consciousness" near Cowbridge, in which he ploughed into three cyclists.
Gough appeared at Cardiff Crown on Tuesday and will be sentenced next month.
Mr Berry's father, John, 52, said the project gave the family "a sense of comfort" as they grieved.
"Initially it was one of those things where it was a distraction and it has certainly given us something to focus on," he said.
"Now, although it does not make things right, it does offer us a sense of some comfort.
"As time goes on it's about continuing all the good work that Jack was trying to do in his life."
Mr Berry married Luisa in 2014 and was working as a chef at a pub in St Hilary, Vale of Glamorgan. He had dreams of opening his own restaurant.
His wife took him to her homeland in 2013, after her father died.
"It was the perfect opportunity for my family to meet the man I am going to marry", she said.
"I took him out to one of the villages where you are living on generators and have head torches.
"He absolutely loved it. He would go and build rafts with the blokes, go out on the farm, cut bamboo - he just loved it."
The money saved for Mr Berry's own pub plus cash raised by family and friends was used to build the school, after the family asked what was needed in the village.
Village elder Seru Sarusaru thanked the family for "making our dream come true" and added that "the legacy of Jack will forever live on in this vil­lage".