Loneliness: 'You get to the point where you often shed tears'
Vic Brown and wife Diane were virtually inseparable during their 41 years of happy marriage.
They shared everything from the morning cup of tea to watching soaps on the TV and going to beloved balloon festivals.
But the former HGV driver "lost his right hand" when Di, the mother of his two children and grandmother of eight, died.
Vic understands the pain of loneliness as research says summer is among the toughest times of the year.
"It's a hard thing to admit," said former lorry driver Vic, 66.
"I've always been an outgoing person, but when you lose your right hand... it's so difficult to carry on and trying to admit to someone that you're lonely, you're empty, you don't know what to do for yourself... that's very hard."
"You get a feeling of despair at times, loneliness to the point where you quite often shed tears. You end up going to bed early because you have no-one to talk to."
Di fell ill during a weekend away at the Bristol Balloon Festival four years ago.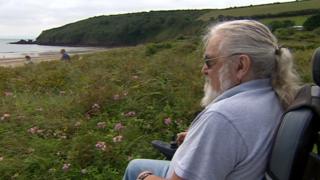 She was eventually transferred to hospital near their Powys home in Meifod where she died.
Vic told his doctor how he was feeling, but he says he felt there was little his GP could do to help.
He wanted life to go back to how it was before Di passed away, sharing the simple things.
As he became enveloped by feelings of loneliness he says the TV he used to enjoy with Di became his best friend.
"It was a noise, it was company," he said.
Vic has become involved with a support group, Ageing Well Cymru near Welshpool, and now talks to community groups and academics about his experience of loneliness.
It is still a raw emotional experience and he says there are times when, in his words, he "blubs" in front of his audience.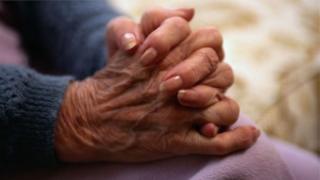 "Loneliness exists for the widowed, separated, divorced, young and old," he said.
"I think that increased social interaction, communication and community spirit are the keys to help alleviate it."
Research has found that 11% of people in Wales say they feel lonely and the summer can be one of the most difficult times of the year for them.
Loneliness has been described as a hidden epidemic. Dr Deborah Morgan, one of the UK's leading experts on the subject, says although Christmas is usually associated with loneliness, for many people, the summer can be just as difficult to bear.
"It's lots of things. It's the long summer evenings, it's seeing people going out in groups, with their families," said Dr Morgan, from Swansea University's Centre for Innovative Ageing.
"If you're lonely, you're seeing life going on around you and others enjoying themselves and you're not part of that.
"If you've always gone on holiday with a partner and you're now perhaps thinking of going on your own... It must be very painful."
The Royal College of General Practitioners Wales has acknowledged the importance of the issue.
It recently launched a community action plan to tackle loneliness, outlining the role GPs can have.
If you, or someone you know, have been affected by loneliness please see the BBC Action Line for information and support