'£5m needed' to upgrade Wales' substandard state bridges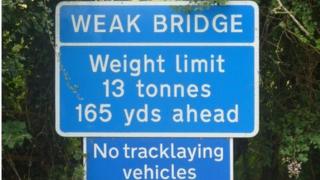 Almost 40 state-managed bridges in Wales need a total of £5m spent on them to be brought up to current standards, the Welsh Government has said.
Of the 1,263 bridges, 39 do not comply with regulations but the government has "reassured" drivers they are all safe.
The Institution for Civil Engineers in Wales says the Genoa bridge collapse, which killed 43, must be a "call to action" on infrastructure investment.
General bridge inspections happen every two years, says the government.
An RAC Foundation report in January said 361 local council-maintained bridges in Wales - out of 6,694 - were "substandard" and would cost £98m to bring them into a "good, if not perfect condition".
No bridges in Wales are of a similar design to the Morandi Bridge in Genoa but the government says hundreds are from the same era and made from concrete and steel which may be vulnerable to corrosion.
"It's a very difficult decision that politicians have to make," said Keith Jones, Institution of Civil Engineers Wales Cymru director.
"Do you prioritise a crumbling school, a library roof, social services or do you carry out more maintenance on bridges?
"But this bridge collapse that we've seen tragically in Genoa, I think we should take as a call to action to make sure that the whole of the travelling public is aware that we need to invest in the very infrastructure on which our lives demand."
Substandard bridges can still be used by traffic but may have weight or speed restrictions in place to ensure safety.
The Welsh Government say they will be represented at the UK Bridges Board where "the Morandi Bridge collapse will be discussed" and "further action will be taken accordingly".
"Welsh Government will seek to learn lessons from Genoa when the causes are known," said a spokesperson.
"Welsh Government has a rigorous inspection regime for all of its structures - taking into account design, age and the likely maintenance needs.
"General inspections are undertaken every two years with more detailed principal inspections typically every six years, which involve close inspection of all parts of a structure. We can reassure drivers and other road users that safety is and always will be our top priority."
The Welsh Local Government Association, the body which represents Wales' 22 councils, said while the catastrophic failure of bridges is rare, local authorities would be following the investigation in Genoa in case there are "lessons to be learned".
A spokesman added: "Local authorities in Wales have processes in place, including inspection regimes, for managing their bridges.
"Not all bridges need to carry '44 tonne' vehicles. The use of appropriate weight restrictions is a normal part of managing the bridge stock for local authorities."