GCSE results: Syrian refugee's long road to exam success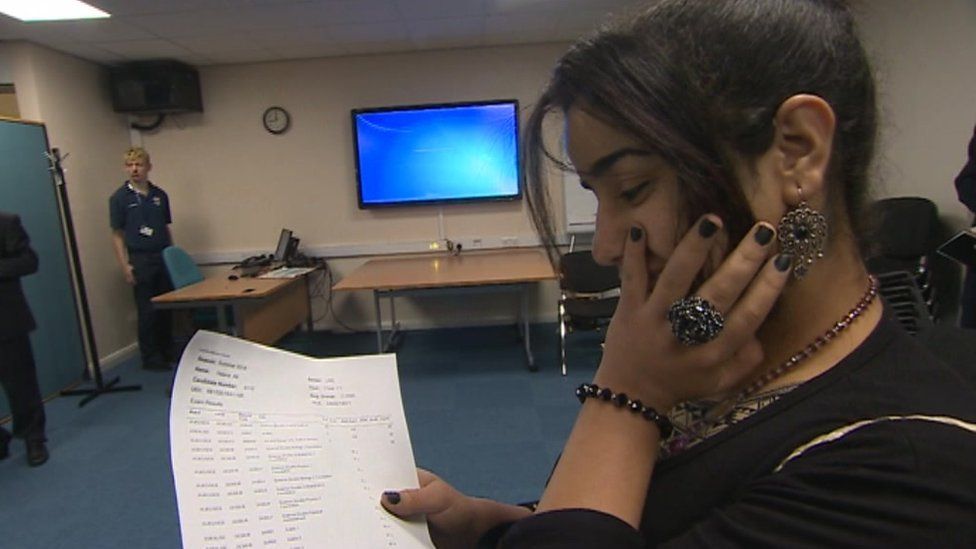 Like many 16-year-olds Hasna Ali has had an anxious morning collecting her GCSE results.
But her journey to this point could not be more different to her peers at Ysgol Y Grango school in Rhos, Wrexham.
Two years ago she arrived in the UK speaking barely a word of English, having spent three years in an Iraqi refugee camp after fleeing her home in Syria.
She got a B in Arabic, C in art and design, and DD in science double award.
Hasna now plans to go to college to do GSCEs in Maths and English as a second language.
She said: "I'm happy. I'm excited for the college and doing hard work."
According to the United Nations (UN) at least 6.1 million people have had to flee their homes inside Syria, while another 5.6 million have fled abroad since the war began more than seven years ago.
Recalling life before she came to Wales, Hasna said: "It was a very dangerous place to live.
"If we'd stayed in Syria maybe we'd have been killed - I don't know."
Hasna said before fleeing their home in Al Hafaka, she, her parents and three siblings - then aged seven, five and seven months - often went hungry: "We didn't have nice food. It was so difficult to find food or bread or anything.
"We didn't have anything. Life was difficult."
And it was particularly tough with a new baby in the house: "It was very very difficult because she needed milk."
The dangers of travelling to school meant she and her two younger brothers often went without education and were instead marooned in their house.
Her parents took the difficult decision to move their children out of Syria. Hasna's father stayed behind to care for relatives and her mother braved the five-hour walk to Iraq with her four young children alone.
"She was very tired and it was very, very difficult," remembers Hasna.
They left all their possessions at home: "[We took] nothing, just some clothes, just one bag."
They eventually arrived at a Unicef refugee camp where they were to remain for three years.
"It wasn't too nice because you worry about everything, you can't sleep at night because you don't know the people you're next to," she said.
"Life had changed. Everything had changed from when we were in Syria. I didn't know people, it wasn't my home."
Her father joined them after one year: "It's difficult and hard to explain not seeing your father for a long time. I missed him too much."
They were granted refugee leave which allows them to stay for five years before an official review determines whether they can safely return to Syria.
"I don't want to go. I want to stay here for my studies and to become a doctor - a surgeon," she said.
"I have friends and everything is all right, and I love Wrexham always because the people in Wales are very nice."
Minister for Immigration Caroline Nokes said: "I would like to send my warmest congratulations to Hasna on her impressive GCSE results.
"As a country we can be proud that we have resettled 12,851 vulnerable refugees fleeing Syria through our Vulnerable Persons Resettlement Scheme.
"In the last four years communities across Wales have welcomed 854 refugees, like Hasna and her family, under the scheme and supported them in rebuilding their lives here in safety."