Bereavement services in Wales 'need major shake-up'
By Jessica Johnson
BBC News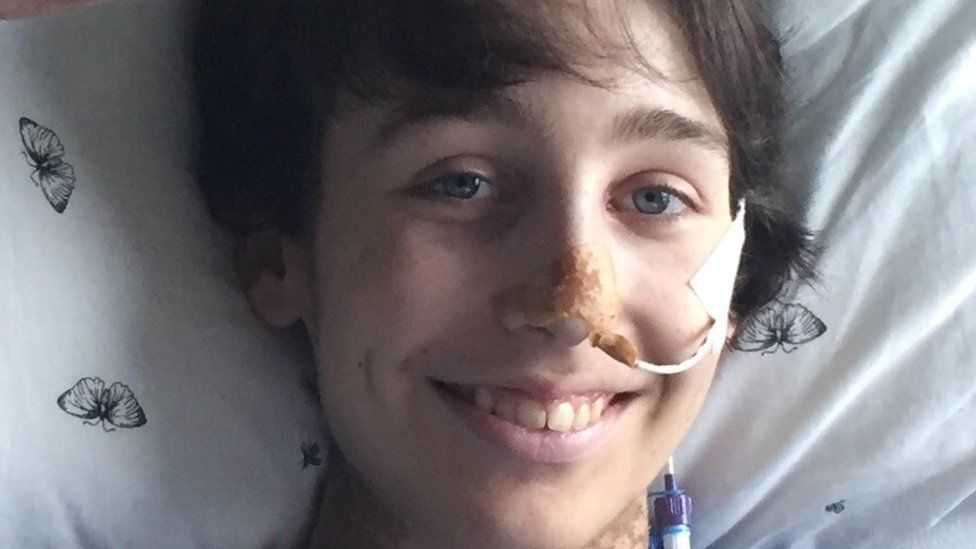 A mother whose teenage son died from a rare form of cancer has called for a major shake-up of services to help bereaved families.
Jack Griffiths was just 15 when he died and his mother Clare Sobey said families like hers are offered little support in the midst of their anguish.
The Welsh Government said a review of bereavement services was under way.
Ms Sobey, 53, from Cardiff, said: "Our lives have changed forever. I don't think I will ever be happy again."
About 21,950 young people and children in Wales aged five to 16 have experienced the death of a parent or sibling and 39,800 may have lost a friend, according to the Child Bereavement Network.
Jack died in April last year after being nursed at home in Whitchurch, by his mother.
She said: "I can still remember the consultant walking down the corridor and he said 'I think you need to sit down… it's spread to his lungs Clare, it's basically terminal'."
Ms Sobey and her daughter Lucy O'Keeffe said, apart from Jack's social worker, provided by cancer charity Latch, there was little support available after his death.
Miss O'Keeffe said: "I made a phone call back last year, to a bereavement service, thinking it would help, and I was kind of ready to talk about things... to be told I had to wait another 18 months."
Their experience is far from a unique one.
Rhian Mannings' one-year-old son George died following a seizure in 2012. Her husband Paul took his own life five days later.
"We left that hospital, after losing our son, and all we had given to us was a piece of paper with some out of date phone numbers on," she said.
"We never heard from anyone again. Five days later my husband, who was consumed with grief, and was so traumatised by what had happened, took his own life, and still no-one came and supported our family.
"Nobody is to blame for my husband's death - but I know that if there had been proper structure of support I truly believe that he'd be here today."
Mrs Mannings has since set up the charity 2 Wish Upon A Star, which provides support for those who have suddenly and traumatically lost a child or young adult aged 25 years and under.
In 2017, it helped more than 200 families, but the organisation is wholly reliant on donations.
The Welsh Government said it provides £150,000 a year to the charity Cruse Cymru to run their children and young people service.
And £6.4m for end of life services is given to Wales' seven health boards, as well as a further £2m to the End of Life Care Board to fund national priorities.
But some health experts say the approach is too patchwork in its approach.
Ceri Phillips, a professor of health economics at Swansea University said: "There's obviously considerable variation, and there are access problems.
"People who require bereavement services, they need it immediately more or less."
Charity Latch, whose catchment area stretches from Chepstow to Aberystwyth, supported a total of 35 bereaved families last year.
Communications manager Stephen Price said: "Where there is a need we step up to the plate.
"Obviously if there was a greater support network in the first place then we wouldn't have to provide that gap, but as you can see throughout a child's treatment there are provisions that can't be provided by the NHS."
A Welsh Government spokeswoman said: "Our End of Life Care Delivery Plan commits health boards to provide appropriate support to meet the needs of bereaved families and carers."
The End of Life Care Board has agreed to review the provision of bereavement services this year.
Ms Sobey, who has four other children, alongside her daughter said she welcomed the move.
In the meantime, she plans to press ahead to set up a foundation in her late son's memory.
Miss O'Keeffe said: "We can try and make sure that no other family goes through what we've been through and that's what he would have wanted."
If you've been affected by this story, the BBC Action Line can point you in the direction of organisations which offer advice and support. The web address is bbc.co.uk/actionline or call 08000 155 947.
Related Internet Links
The BBC is not responsible for the content of external sites.